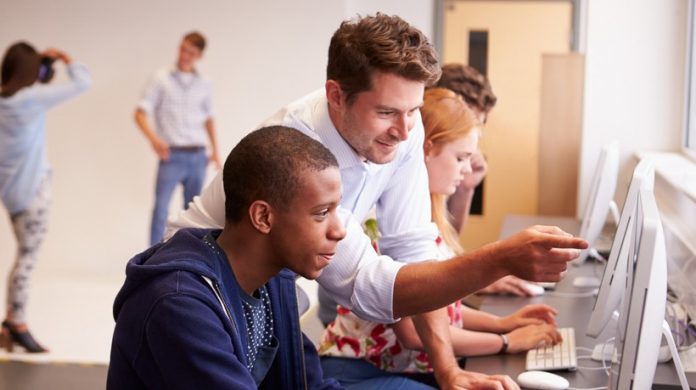 The recent advancements in technology can't be denied and are quickly entering homes and office buildings everywhere. Finding it a bit confusing or overwhelming at times is normal, but there isn't any denying the way it helps to improve education and business practices.
To prove it, below are several ways technology can enhance the way you learn and work overall. Being more productive and getting your tasks done at a quicker rate are all positive benefits to be happy about. You may not even realize all the various ways tech is improving your life until you take the time to sit down and review these advantages individually.
1.   Career & Education with Online Learning
No longer do you have to pick up and move and completely alter your life to receive an education. For example, if you've always dreamed of being an engineer but simply don't want to move states or have time to attend college in person, then you don't have to. Now with the help of technology, you can opt to get an online degree in civil engineering from Michigan Tech from the comfort of your own home. This way you can stay put where you are, hold down a full-time job and also get a degree in the program and at the school of your choosing by plugging in online. Receiving your education online is now easy, cost-effective and won't completely disrupt your current schedule or lifestyle because of the flexibility it offers.
2.   Ease of Purchasing
One way technology can improve your business is with how easy it is to now make purchases. Consumers can pull up their computers or hop on their phones and in seconds order what it is they want. Not only is the ordering process easier and quicker, but technology has also helped progress the advancements in shipping methods. Shopping online takes out the stress of consumers having to drive around from store to store and all over creation to find the perfect gift for someone else or a specific item for themselves. In fact, the majority of businesses are offering ease of purchasing online, as you can even shop for and purchase big-ticket items on the Internet such as a car or furniture.
3.   Better Communication & Always Connected
Tech is also improving the way you work and study because it's making for seamless communication both for educational and business purposes. You can go online to send an email or use social media to always stay connected to those you work within the office or your professors. There are no more excuses as to why you can't get in touch with someone fairly quickly and start a conversation with them. You can use technology to keep in touch with your classmates throughout the day, or plug into a video conference and conduct an important client meeting instead of having to travel great distances to meet with them. This reality has truly helped to improve client relationships and make for a better working relationship.
4.   Instant Information
No longer do you have to head to a physical library or find an expert to answer your burning questions. Nowadays you can use technology to gain instant access to information and do your own research to find the answers you seek. Jump online and perform a search for what it is you're interested in learning more about, and in no time you'll have the knowledge you need at your fingertips and will be a wiser person for it. There's so much information out there on the internet that there's truly no excuse for not being able to find out more about a certain topic you're interested in. No longer do you have to sit around waiting for important answers or tasks to be completed when you can simply plug in and communicate with whoever you need to instantly.
5.   Working Remotely
Another way technology is improving education and business practices is that you can work remotely from anywhere. This cuts down on commute times and allows for more work-life balance for individuals who also have a personal life to attend to. It's easy to get in touch with who you need to and you never even have to leave your home to complete your tasks or assignments. With the advancements in technology such as smartphones and laptops, there's truly no reason why you can't get your work done from any location where there's an Internet connection. Telecommuting is a great benefit for companies to offer employees and helps with recruiting top talent.
6.   Cloud Processes
The cloud has also made it increasingly possible for businesses to bring their important tasks and files online to work. This way your staff or team members can access whatever documents they need to, whenever they need to and can make changes on the fly that you can instantly see and review. Due to these advancements in technology you can now work more efficiently and don't have to meet in person to discuss any changes or updates. Your work is automatically saved and can be passed along for the next person to take over. Working in the cloud offers you and your team additional flexibility, increased collaboration and document control, to name a few.
7.   Security Software
Technology is also improving education and business practices with security software solutions. You can work freely online knowing that your work and documents are protected and secure. There are also plenty of disaster recovery companies out there that can help you retrieve lost or stolen data quickly should you be put in this situation. There are always going to be cyber threats out there, so it's important that you take the proper precautions to ensure your information is safe and secure at all times while working online. This will help to confirm you're complying with all business regulations and that your customer's confidential information and data isn't going to be hacked or compromised.