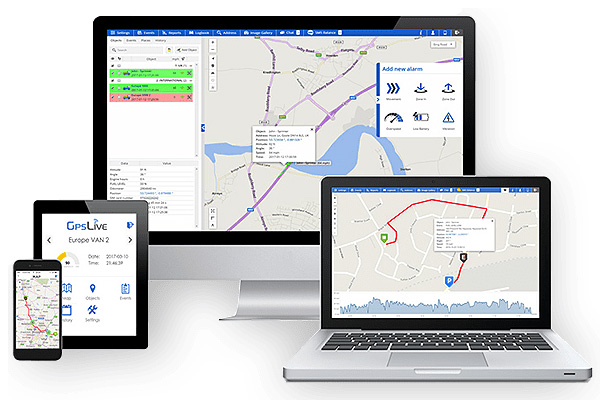 There are a lot of options out in the market when it comes to GPS Trackers and fleet tracking software, and whether you've purchased in the past or a first-time buyer, it's important that you do your homework before making a final purchase, and getting the most benefits from your investment.
By Using https://www.where-am-i.me/ you can track your location on the map. You can check your location with free and easy to use application.
The biggest potential benefit that implementing fleet of GPS Trackers and management software is a significant return on investment. While the initial investment required to install a GPS fleet tracking system and the ongoing monthly operating costs may seem intimidating at first, you must look at the bigger picture instead of the immediate time and expense involved with implementing a GPS fleet management system.
The first step in buy a GPS fleet tracking system is to identify the reasons you want to get a GPS fleet management system. Do you want to use your system to locate your vehicles only? Or, do you want your system to have the capacity to help you reduce your operating costs, such as your fuel and labour costs, and increase your revenue as well?
Once you've determined the reasons why you want a GPS fleet tracking system, you need to figure out the number of vehicles you want your system to track and the areas your GPS fleet management system will need to cover.
Here are some questions about Australian GPS Tracker hardware.
Does the GPS Tracker meet Australian standards?
GPS tracking devices must be tested to Australian standards and must be certified by ACMA (The Australian Telecommunications and Media Authority). Severe penalties apply for buying, selling or using unauthorized products. Always check for the A-Tick mark and certification number on any GPS tracking device you are considering.
Does the GPS Tracker transmit on Australian Network frequencies?
Does the GPS tracking device transmit data using the NextG 850/2100 MHZ, 4G-LTE and 4G-CATM1 networks?
GPS tracking devices obtain their location using the GPS satellite system and send their location to a central server using the mobile phone data networks.
There is much confusion in the market as most devices sold operate on the 3G or 4G GSM networks. Many GPS tracking companies confuse the 4G LTE and 4G CatM1 Networks. 4G CatM1 is specifically implemented by Telstra for M2M
(Machine to Machine) and IoT (Internet of Things) devices which include GPS Tracking devices.
Some international companies operating in Australia provide an international roaming sim card within their devices. This sim card may seem advantageous, as it can roam across all networks including Telstra, Optus and Vodafone. The reality is that data roaming across multiple international network "hops" is sometimes slow and unreliable, meaning your GPS tracking data can go down at any time for hours.
For example, your GPS data may be sent across many "carriers" from Australia to Hong Kong to
India, London, New York and then off to San Francisco where the GPS company has its data centre.to San Francisco where the GPS company has its data centre. Any occasional weak links across the network will mean you will be receiving delayed and unreliable data.
Is the GPS tracking device manufactured by the GPS distributer?
Many GPS tracking companies are simply sourcing and reselling products from overseas suppliers. Some of these products are poorly designed and manufactured and purchased for as little as $20 from online China companies. Apart from poor quality these products provide the very basic functions, resulting in inaccurate data.
Will the devices be the same model across your fleet? Smaller GPS companies frequently change their hardware models and fleets frequently discover they have different device models across their vehicles.
Will the GPS Tacker update? One of the problems that occur with low quality devices, are when updates are made by telecommunications networks. You may find they will either stop working or become extremely unreliable.
What Mapping Technology does the GPS tracking company use?
A GPS Tracker is s only as good as the Mapping software it uses.
Many smaller GPS tracking companies maybe using unlicensed mapping or freeware and outdated maps.
Very low monthly subscription charges? As small GPS Resellers grow their business, mapping providers such as Google Maps detect the increase in traffic and these companies will have to pay the commercial fee. The commercial fee from Google for fleet tracking becomes very expensive, which would mean large increased fees at any time to their customers.
What happens to data if the GPS tracker is outside of mobile phone coverage area?
A good GPS Tracker should store the GPS information and automatically send it to the monitoring software, once the GPS enters a service area.
How many positions with the GPS tracker store? 1000 or 100,000. limited storage such as 1000 positions may result in lost data.
Long distance and outback vehicles may require BlackBox Recorders.
The Blackbox Recorder's store up to 27 hours of continuous driving data.  Blackbox recorder like an aircraft, which stores data on a second by second basis for incident reconstruction.
How do you prevent GPS inaccuracies?
Although GPS accuracy is normally within 2-5 metres, it may be affected by overhead structures such as high-rise buildings, carports, and trees. Sometimes this results in inaccuracies of many hundreds of metres.
If a vehicle is stationary under these conditions "GPS bounce" results in a starburst pattern being displayed on a map as the device updates, it's position. Apart from not looking too great on the tracking software, this also causes reporting to be inaccurate.
It can be solved by using accelerometers within the GPS tracking device, to detect movement prior to updating any GPS locations.
How long does the GPS Tracker keep the data?
GPS tracking providers may keep data for 1 month, 3 months, 6 months or years.
A minimum requirement would be 3 months for small fleets.
Larger companies have a statutory time required by law to keep company this type of data, for years.