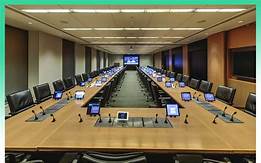 Video Conferencing System can change how your business works entirely. A good system will even help your business to grow even bigger. As we all know, communication has an important role in today's business world. So, installing the best video conferencing system on your company holds a significant effect on your way to reach your success. Now, for your best experience, we have six video conferencing systems services you can try.
Polycom Video Conferencing System
Polycom is one of the well-known brands that provide the best video conferencing system. The hardware and software are all on the top position among other similar services. More importantly, its system can adapt to clients in any location in this world. You also can easily integrate this system into any rooms in your company. In short, it provides an effective and productive system to communicate.
Grandstream Video Conferencing System
Grandstream video conferencing system is a perfect choice if you want to integrate it with the mobile system. As mentioned on its official website, you can use this system for, at least, the Android 4.4 system. It means it is also compatible with other newer systems. Furthermore, with this integration feature, you also can use it with popular apps, such as Hangouts, Skype, and other apps. Plus, it also uses SIP technology, which makes it easy to install and use.
Clearone Video Conferencing System
It provides the best video conferencing system for all business scales. It doesn't matter if you just started your business or already run an enterprise; this brand has the video conferencing system that you need. It supports the H.323/SIP as well as H.460 system. It also uses Spontania Cloud-Based media Collaboration and Clears One VC System to provide the best solution for your video conferencing needs. Thanks to this technology, you also can pair it with many types of applications.
Yealink Video Conferencing System
Yealink is one of the top brands in the video conferencing system category. It has many interesting features. For example, the H.323/SIP protocol and advanced packet loss recovery technology provide the best experience you can have in a video conference. One of the best features it has is the HD video conferencing system. It improves the communication quality and prevents any miscommunication because of the low-quality image.
Ayaya Video Conferencing System
Ayaya video conferencing system is what you need if you want a video conferencing system with the best video format. It adopts the latest technology, which allows you to make a video call with the 1080p 60fps video resolution. It is so smooth and feels like you are looking at real people on the other side of the monitor.
Huawei Video Conferencing System
Huawei offers one of the most stable videos conferencing systems. It uses the SEC (Super Error Concealment) and IRC (Intelligent Rate Control) technology, which provides smooth and high-quality video even if you are in a low bandwidth situation.
Now, choose the video conference system that you need. They are all perfect choices for the business. Some of those services also provide the Video Conferencing System for personal usage.