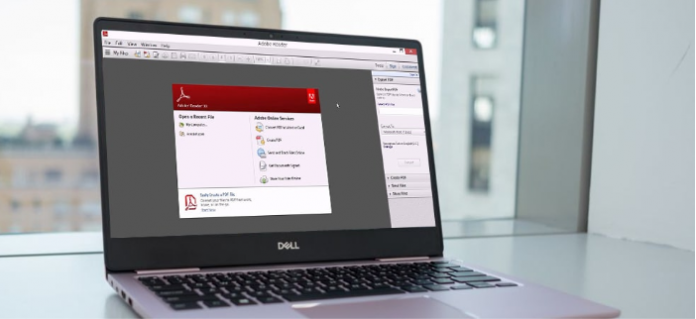 If you're a Windows user looking for the best PDF readers to complement your MS Office apps, this is the article for you. We've tested and collated several PDF editors and have come up with the five best ones:
Foxit Reader
Arguably the lightest and most reliable PDF reader and editor around, Foxit Reader is not only free to download, but it's also an exceptional PDF creator if you're looking for one. It has the ability to share and secure PDFs, whether you've created them yourself or just editing them. It's an excellent choice for a universal PDF reader if you're running an office online and offline. 
With Foxit Reader, you can easily upload a wide range of files from classic Word document, Excel files to even Powerpoint presentations. If you're looking for a ppt to pdf converter you can check out PDFBear, it can easily convert without ruining the flow of the presentation. For heavily-animated ones, you'd need to re-layout the file, but other than that, Foxit can do the heavy lifting for you.
Google Drive
Not many know this to be true, but Google Drive is actually an excellent PDF converter and storage system. It has 15 GB Free storage for every user.(for more storage you should upgrade from google drive to google one). The fact that it is accessible online and is automatic for any Gmail user only adds to the fact that it is the PDF reader and editor to beat when it comes to online file management.
Uploading to Google Drive is a breeze, plus you can easily edit, comment, and annotate files and documents whether they're Word, Excel, or Powerpoint. You can even convert these types of documents to PDF instantly. You just need to open the file, then look for the option to convert, then voila, you have a PDF file in your hand in an instant!
Adobe Acrobat Reader DC
There's no list of PDF readers and editors without software coming from the original purveyor of the file itself. Adobe Acrobat Reader DC is a fully-packed, feature-rich software and system that rivals any paid application out there for PDF editing and viewing. At least half of the PDF documents shared worldwide need an advanced reader because of non-text elements to load and read properly, and this is where Adobe Acrobat Reader PC shines through.
Writing on fillable forms is one of the most common purposes of PDF documents. With Adobe Acrobat Reader, you get a powerful editor that seamlessly lets you fill out data without messing up the original document format. There are also several reading modes for PDF reading in the app, a helpful feature if you use PDF viewers for heavy reading and annotating. If Adobe Acrobat is not working you can also check some alternatives.
Expert PDF Reader
Expert PDF Reader has a clean, easy to identify the interface that will resonate well with MS Office users. The interface looks like it's part of MS Office apps with toolbars inspired by how the office computing giant used to do. It's a great PDF reader and editor as well, and when tested, it can handle almost anything that's thrown into it.
Modifications are easy to use, signing is a walk in the park, and commenting feels very natural. There's also a viewing mode that lets you see the thumbnails of the incoming pages you are going to edit. This is a great feature when you're editing references, and repeated patterns. 
PDF X-Change Editor
PDF documents can sometimes come in the form of scanned documents, and while it is better to make a PDF file from a standalone creator, most people only use PDF readers for viewing and editing. PDF X-Change Editor is unique among the ones listed here because of its Optical Character Recognition tool, which scans printed documents and turns them into a nice-looking PDF file.
This is perfect for people who work with PDF files all day. You can even add notes, attach audio recordings, and strikethrough words on the document itself without looking messy. Of course, editing and annotating is exceptional with this software, so if you're looking for a hardcore PDF editor, you should be checking PDF X-Change Editor.
Takeaway
There's a bevy of choices for Windows users out there when it comes to PDF viewers and editors, but none more so attuned to your specific needs than the software listed above. Try them all today!