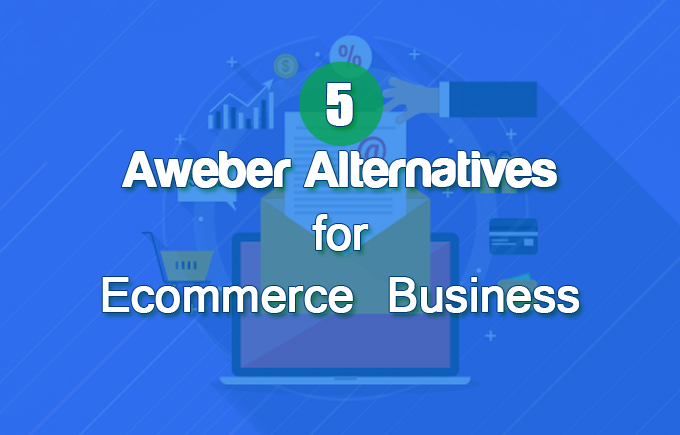 In today's world, you cannot ignore the importance of e-mails. E-mail is one of those platforms which will not get redundant in coming time. People, no matter from which category they belong, need e-mails to get connected with others and the world. This made e-mails a weapon for marketing.
You will be surprised to know that every year 74 trillion e-mails are sent. It's a great medium to boost customer engagement. So, now you can understand that if you are not using e-Mail for the marketing, then you are losing a chunk of potential customers. To be in touch with your customers, you would need the right email marketing software.
The market for e-mail marketing software is led by Aweber. It has been tremendously used by many startups, entrepreneurs and bloggers to promote their products and services to the end users. But in recent years, the fall has been observed in the popularity of Aweber because of many reasons like its rates, the late response from the team, etc.
In this post, we will tell you about some Aweber alternatives. You can pick any one of them and give it the responsibility of your e-mail marketing.
More than 12 Million users send more than a billion e-mails through MailChimp. MailChimp is perfect for you no matter whether you are a new blogger or Entrepreneur. MailChimp is getting popular as it offers a free account for the initial 2000 subscriber and 12000 emails. It's easy sign-up process and the clean dashboard is the USP of this software. It allows you to run different types of campaigns such as regular, plain text, A/B tests, and RSS.
Omnisend is formally known as Soundest. The templates of Omnisend are visually appealing, and the USP of Omnisend is that it's really easy to use. It's beautifully designed, and its customizable forms and timely pop-ups are other qualities which attract the users. Overall, it has all the features that you need in e-mail marketing software. This one can handle your e-mail marketing very effortlessly.
EasySendy is a cloud-based e-mail marketing tool. It offers an EasySendy Drip plan for an advanced and targeted e-mail marketing. The On Exit and On Scroll Popup forms of EasySendy make it an instant and automatically subscribe to grow your email list faster. It comes with many other features like e-mail List Hygiene and Cleaning. This feature works well when you are trying to avoid all kind of manual errors or typos in email addresses.
MailerLite is another awesome email marketing tool. It's launched by a UK based company,and since its launch, its customer base is increasing rapidly. It lets you create the e-mail design very easily. The USP of MailerLite is that it is responsive across devices. The emails send by MailerLite looks same on all the emails platforms whetherit's on Gmail, Apple Mail or Outlook. MailerLite has tool's link builder which allow you to design your own forms.  
GetResponse is known as one of the easiest email marketing automation platform in the technical world. Its consumer base is very large and more and more people are buying it to grow their email list. The best part of GetResponse is that it's user-friendly. To make your e-mail attractive,, it offers you over 500 pre-designed templates, 100 iStock images, and mobile previews.
The other great feature of GetResponse is drip email marketing campaigns which you can create with a snap of a finger. It has an anti-spam team that ensures your mail always land in customer's inbox. There is no doubt that it's a great feature as being blacklisted is a condition which no business wants to face.
Wrapping Up
So, these are the best email marketing tools that we found useful. If you are using any other e-mail marketing software which can get a place in this article, do let us know.