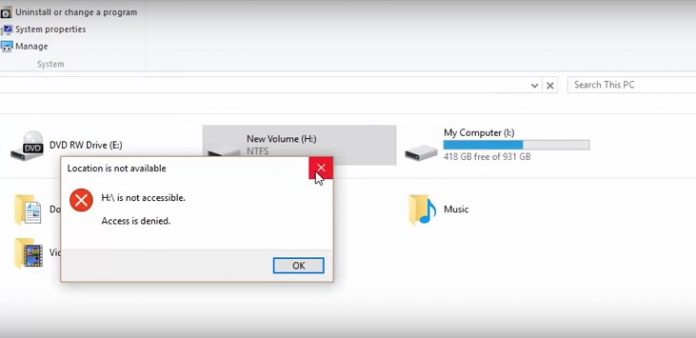 Storage for digital files is indeed incredibly reliable today but things can go wrong from time to time. Sometimes unexpectedly ''can't read from the source file or Disk'' jumps out at your screen when you just trying to open or copy a file in windows or be going about your task.
When your precious data stays out of your reach ….it can be frustrating. You can try many fixes to solve your problem but in case of giving up, Mac free UnCutData Recovery software is available as an unavoidable solution of your information recovering the issue.
Things to do when D disk can't be opened:
You can try these methods to get back your important data:
Initially try to recover your files by turning your windows computer off and on it again. Usually, this error is down by a fresh boot.
Bad sectors are very common causes of disk read errors, it is better to check them first. You can use Windows built-in utility called ''Check Disk''. It repairs bad sectors, and in some cases, you may recover your lost data.
In case of physical failure of your hard drive, you will get a disk read errors.
Although using the optical discs on Windows computers is out of fashion but if you need to get information from CD or DVD, just by wiping the disc with a soft and clean cloth you will clean away the debris and fingerprints.
Sometimes your Window does not understand the particular file name. In this situation rename your file.
Windows can refuse file ownership. By checking and changing ownership of your file this matter can be resolved.
All types of disk drives communicate through some kind of connection with your computer. These days almost always USBs are external drives. Fault in the USB port of computer or USB cable might be the cause of ''can't read from the disk'' error.
But if you have accepted that you have lost your data from a disk and there is nothing to be done…think again.
Mac Free UnCutData Recovery software never allows you to pull your bacon out of light. It helps you to restore files when your D disk isn't able to open.
You can recover your information files on Mac using UnCutData Recovery Software by following these easy steps:
Download and install Mac free UnCutData recovery software.
After launching applications simply select disk requiring recovery.
For scanning lost data click on ''Recover''.
Select a new storage location for recovered files and select these files from preview.
Performing recovery again clicks on the ''Recover'' button.
UnCutData Recovery Software has deep scanning technology that increases the chances of file recovery to the maximum. This tool can recognize many file types and asset you instrumentally in the efforts of data files recovery. It recovers your lost or deleted data from external hard drive, local hard drive, and lost partitions. It is available with free lifetime upgrades.