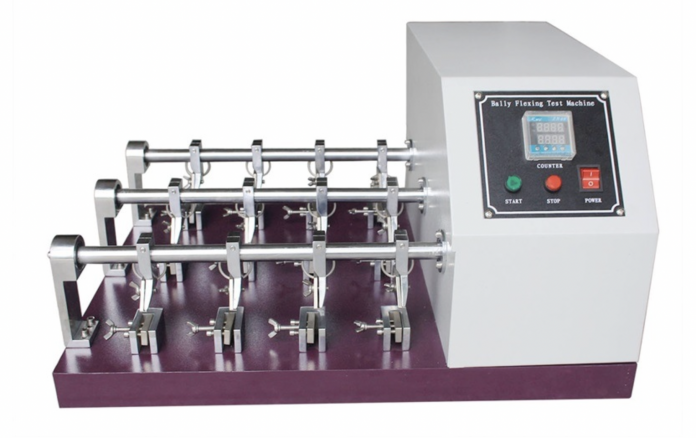 Flexometer, also known as bally leather flexing tester, leather bending tester, is an international instrument used to evaluate the bending resistance of various light leather and its surface modifiers. It is mainly used to test the bending resistance of leather under continuous bending.
Bally Flexometer is to determine leather flex resistance by flexing leather in a certain angle and speed in wet or dry condition. The Bally Flexometer  is suitable to test all kinds of leather whose thickness is below 3 mm.
Unuo Instruments is a manufacturer and supplier of leather testing equipment. Contact us today for Bally Leather Flexing Tester price & more details.
1.    Unuo Bally Flexometer Features:
Flex sample in dry or wet;
Test Positions Options: 6, 12, 24;
Environment control available;
The clamp is different as required by different test standards and purposes.
2.    Know more about Bally Flex Test;
Bally Flexometer Different Types Test Grip
Bally Flexometer standard includes ISO 5402-1, ISO 20344, ASTM D6182, IULTCS/IUP 20-1, EN 344 and SATRA leather standard SATRA TM55. Although these leather flexing test methods require the same flexing speed, they have different requirements for the test grip. Below is a comparison of ISO 20344 and ISO 5402-1.
For leather flex resistance test method ISO 5402, part 1 is flexometer method – Bally Flex Tester; Part 2 is Vamp Flex Method – Vamp Flex Tester;
Bally Leather Flexing Tester is a pre-flexing machine before Water Vapour Permeability(WVP) test as mentioned in ISO 20344.
To know flexing resistance of leather at low temperature, Bally Flexing Tester can be made with temperature & humidity control. This cold Bally flexing tester can be added with other test grips like vamp flex tester to save your cost. As a leather testing machine, bally flex tester is commonly used to check the properties of leather and footwear /shoe upper materials.
Bally Style Flexometer (KFG-2330)
The standard Bally Style Flexometer is a twelve station bench top machine
Used for assessment of flexing endurance of light leathers, coated fabrics and their surface finishes
Can also determine tendency for cracks to form in the creases caused by walking
Each station includes pair of suitable clamps for attaching the test samples
Operation loads as many stations as desired
Desired number of tests cycles is entered on the cycle counter and the test is started
Once this cycle count is reached the machine will automatically stop
Test samples are visually evaluated.
Bally Flexing Tester (Flexometer) is designed for flexing resistance test to bending or other types of failure at flexing creases.
The Flexometer is applicable to all flexible materials, in particular leathers, artificial leather below thickness of 3.0mm, and other coated fabrics, sheet materials, etc.
This Flexometer is designed to conduct the flexometer test method:
Test piece is folded with the surface to be tested inwards and clamped in an upper movable clamp and with the surface to be tested outwards in a lower fixed clamp. Movement of the upper clam caused a fold in the test piece to run along with it. The test piece is examined periodically for damage.