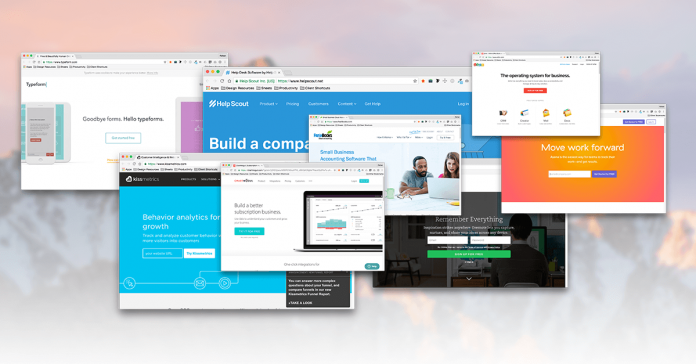 When looking to re-design or even have a new website, most business owners – who often have no time to fully understand web design – just look at the visual aspect of their website.
They judge the success of their website by how it visually looks to them.
They don't take into account whats above the fold, is there a main call to action, is the website about them or the customer, are the colours for call to actions contrasting and in the right spot or even has the customer journey been thought out and plotted correctly?
Not taking into account the above will lead you to a fancy looking website that when you launch may look pretty and receive nice compliments – However it rarely, if ever, converts those website visitors to paying customers, or whatever the conversion goal of your website may be whether it's a sale, phone call, form enquiry or signing up to a newsletter.
When thinking about designing your first website, or re-designing your first ever website, ask yourself: "what is the purpose of my website, what do I want visitors to my website do above everything else"?
Some answers to this question may be:
To research who we are and what we do and get further information on us
To research our specific offering and call/email us to enquire
To purchase a product there and then through your website
Each of these possibilities will require a slightly different thought process to your websites' user journey.
For example, if your main goal is to have people research your specific offering and you want them to call you, then you would have the thought process that the visitor to your website ay not know who you are, is possibly evaluating you against competitors.
If you were looking to sell a product through your website, then your thought process and the actual execution of your website would be far different and be more along the lines of your visitor may not know who you are, they may be anxious about putting their card details into a website they have never visited before, they would be looking for details on your returns and delivery process, delivery cost, customer service, reviews etc so your main journey would be building trust and securely taking a transaction and keeping your customer in the loop in terms of order received, processed, out for delivery etc.
Working out your user journey is not a simple 5 minute task, it could take a few days even weeks or months. Taking the time to get this right before a pixel is designed will save you a lot of hassle and money in the future.
Choosing the right web designer to design your website is just as important as planning and understanding your user journey.
Start with a local web design company, for example if you are based in a big city such as Birmingham, you might start with an online search for web design Birmingham and review the web design companies available in your local area.
When interviewing your shortlist of web designers, don't just look at their work – as it will surely look beautiful – But look at their testimonials, speak with their past clients, look for key items such as "conversions increasing" "sales increasing" – This will show you that the web design agency you are looking at understands how to make a website work hard and not just sit there looking pretty.
Speak with your shortlist of web designers about user journey, ask for their input, they should be able to elicit the answers from you, understand your user journey and be able to have a big insight on how best to plan out your user journeys to ensure that your website does convert.
Once you've chosen your web design company and fast forward to launching your website the real conversion analysis work starts.
You may want to look at your analytics and see what your visitors to sales are, this can all be tracked and is called your conversion rate.
You may want to look at the data in a bit more in-depth and see what your page bounce rates are and try to optimise them further to ensure people are spending a little more time there and going to the next stage in the user journey.
You may want to install some screen recording software such as hotjar or inspectlet which records visitors interacting with your website – The great thing about this is you can watch videos back of people interacting with your website, see where they are clicking, see what's making them leave your website and fix any problems – This is one of the best ways to boost your conversions and ensure that your website is functional and generates you a measurable return on investment.