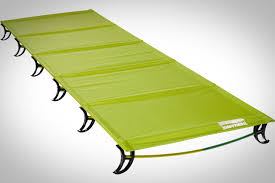 Camping cots will make your stay outdoors definitely more comfortable than sleeping on the cold hard ground. But there is a lot to consider in making sure you bring along the right cot for sleeping. Here is what you need to look for in selecting the best camping cot.
Camping may tire you out with all the activities you're going to do but it doesn't mean you can't have a good night's sleep. Cots will give you that little bit of extra comfort to make your camp out more enjoyable. After a long day of hiking, fishing, swimming, and backpacking, your back will appreciate lying on good camping cots.
Camping used to hard because you're afforded little luxury and comfort with the things you can bring along. All the necessary camping equipment used to take up space and time when packing which left little room for fun stuff. But all that's changed with how technology managed to squeeze a lot of things into smaller versions or packaged them into nifty all-in-ones. You can now afford to bring along camping cots with ease.
Uncomfortable sleepless nights in sleeping bags on the hard ground can now be a thing of the past. There's also the collection of moisture on the ground that can be an issue in the morning. And not to mention the creepy crawlies that might want to get personal and intimate with you that you definitely want to avoid.
There are a few things to consider before buying your camping equipment. Here are good questions to ask yourself. How much comfort do you want from your bed? Are you bringing a car, an RV, or a truck? You might not have enough space for a big cot with all your other camping equipment, even if it's foldable. As always, when buying things, how much are you willing to spend?
First, good camping cots should be comfortable, durable and portable. You want them to be easily set up, taken down, and brought along with you but strong enough to take a punishment by the elements.
For portability, pick a cot that's built with light-weight materials, like aluminum. Aluminum has the unique ability to be light but still remain fairly rugged and durable. Other materials are also used, like wood, steel or plastic.
Your cot's frames should be able to support the weight of whoever is going to use it. Make sure the cot doesn't sag when used as that may be uncomfortable and bad for the back. If possible, check if there are parts of the frame that might make lying on the cot uncomfortable.
Check the durability of the material used for the cot itself. It should be tough, and at least be resistant to abrasions, cuts, tears, and punctures. Small tears and punctures might not stay small for long if they're stretched through use of the cot.
You wouldn't want to lie down on a wet bed, would you? Your cot should be water resistant and fast drying. That should also make it easier to clean up.
Camping cots are available for sale in most outdoor goods stores and some can easily be found on the internet. With all your essentials packed, and a good cot to sleep on you will be on your way to a great time outdoors.