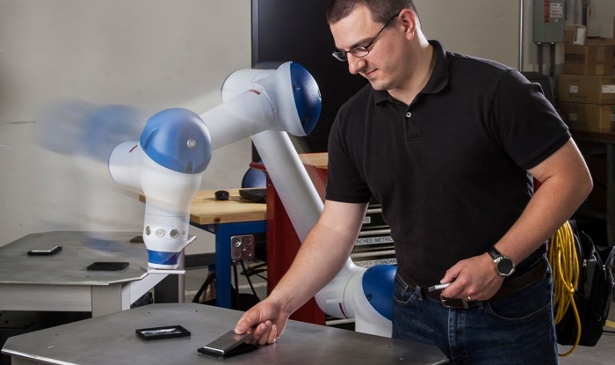 There is no greater joy than completing that dirty, tedious job you have been staring down at for a while. The sense of accomplishment you feel the first time or even the first few times you get the job done. However, such jobs can not only wear human staff down over time but also keep them away from high valued tasks in a factory. This is where industrial robots come into play.
Even though this might come as a surprise, you should know hiring an industrial robot to take care of monotonous or grimy work may not always be the solution. This is because not all robots are equal.
Why collaborative robots are the best type of robots to work with
First and foremost, industrial robots can be an intricate solution especially for middle-sized and small businesses. The second reason is that not all plant managers have the staff or budget to integrators to program and reprogram the robots. Lastly, industrial robots need their working area to be safeguarded for the purpose of preventing potential injuries to the human staff.
However, hiring a collaborative robot also known as a cobot may help you overcome the aforementioned challenges. This depends on the tiring monotonous task you carry out on a daily basis. Collaborative robots are not only relatively lightweight but they are also designed to operate safely since they work hand in hand with humans.
Due to their safe nature, cobots can eliminate fencing or curtains through risk assessment and proper application. They are also built with force-limiting technology or sensors. Since a collaborative robot can be easily programmed through hand guiding, it allows you to move its arms from one point of the job to another without having to type the commands on pendant.
Why is there need for risk assessment?
Before you invest in a collaborative robot, you need to conduct a risk assessment first. If you have no idea on where to start, you should know that the robotics industry has certified experts who can handle all types of risk assessments. This is essential because you want to ensure that the robot you purchase, it application and your human staff interact safely. If you want to get this kind of chemistry right, you need to ensure that there is a safe working environment thus enhance productivity.
Risk assessment is important because different companies carry out different tasks. For instance, if your company manufactures machetes, knives or any other sharp objects, will your human staff be safe because the cobots are moving at a slow pace? Therefore, before going the collaborative robotics way, you need to evaluate the entire system.
The rewards of hiring collaborative robots
Cobots are not only easily configured but they are also designed to work collaboratively alongside human beings hence the name. If a collaborative robot comes I contact with a human staff, it immediately halts to either eliminate or minimize injury. In the event that your production line is configured to handle something new, all you need is a professional integrator to reprogram the cobot in two hours or less.
This is more rewarding considering the fact that industrial robots require two or more days to be programmed to handle this kind of change. This alone is enough to convince plant managers that collaborative robots are worth the cost.
Collaborative robots are also rewarding because they offer cost quality and safety benefits. This makes them a feasible solution for both the economic and technical challenges supply chain organizations face despite the industry or its size.
Additionally, if you want to future proof your manufacturing processes then consider collaborative robot because they perfectly fit this profile. Think about it this way, every time your management will need to change the type or style of the product being run by your plant, your cobot will be able to handle the changeovers required with minimal time and effort.