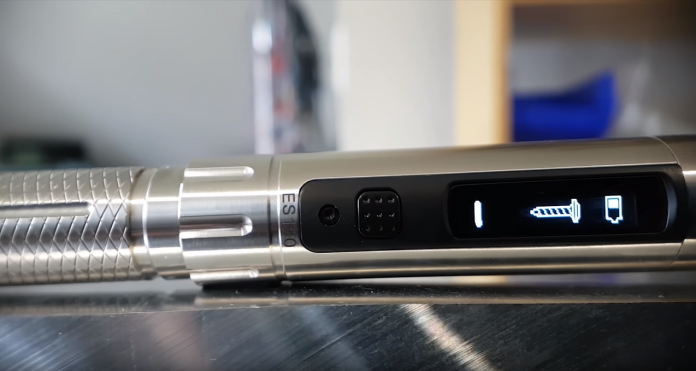 In daily life, you may come across the situation where your cell phone is broken or your watch stops working, and you have to repair it. Or you are just an enthusiast of electronic products like cameras or drones. In either case, you are likely to dismantle it only for the magic inside.
A Screwdriver is a necessary tool in these cases. However, using traditional screwdrivers, people have to get many of them with different types, which would cost a lot and take up much space. And sometimes, it's inconvenient to work on small gadgets with such a big tool. What's worse, using it for a long time would drain you out, at least to your fingers.
Now, there is an amazing creation called electric screwdrivers.
Instead of tiresome manual operations, an electric screwdriver tool requires only electric power to be driven. An electric screwdriver is able to work with sophisticated and delicate products, such as walkie-talkies, glasses, watches, small toys or cameras, etc. So it can be seen in many scenarios, like in your living room, kitchen, recreation room, and workshop, let alone inside your tool bag, playing a vital part in people's daily life and professional cases.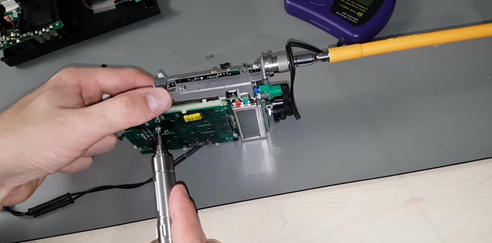 Whether you are a professional who needs to maintain electronic products, or just a parent to repair your children's gadgets like a pair of glasses or a watch, the electric screwdriver has the sharpness you may be stunned at.
Different from the clumsy traditional one, an electric screwdriver is way more delicate. Most have plastic shells, while some are made of aluminum alloy casing.
Some better ones have even tried materials like stainless steel. e-Design's ES120 Motion Control Electric Screwdriver could speak for that. Its shell is made of stainless steel, granting a superb and firm touch of the hand.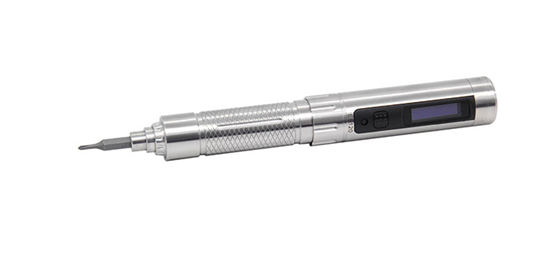 And you may have this experience. The traditional screwdriver slips when you are holding it. Now the electric screwdriver can solve this problem because it has a very smooth non-slip pattern in the front part, which requires sophisticated processing. This grid pattern helps people better control the screwdriver, providing the excellent user experience. Some screwdriver lovers would even enjoy fondling with it.

With a traditional screwdriver, people can only adjust the direction by hands, which is a demanding job. Here is the good news. An electric screwdriver could be smart. For a majority of electric screwdrivers, the direction of rotation can be changed by pressing a button. Now there is a much cooler way to control the direction. That is to change the direction by turning your wrist.
This kind of electric screwdriver is born with an intelligent brain – the CPU and it can be controlled by turning the wrist. Say you would like your screwdriver to rotate clockwise, just turn your wrist to the right. With such easy gestures, you can adjust the direction immediately when you need. That's why e-Design's ES120 has got popular recently. Now, you may be pleased with the fact that you won't get tired easily even you have loads of screws to loosen!
Besides, the CPU also allows it to be upgradable. People could change its programs whenever they want, making it adapt to different kinds of screwing jobs.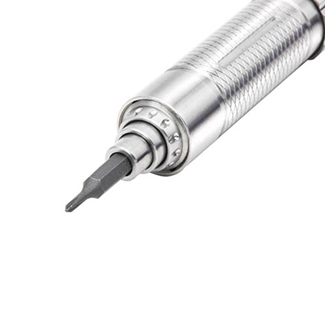 What's more, some new models of electric screwdrivers in the market are equipped with a display, on which it tells the power and the status of the torque, etc. That helps users better manage this tool when doing the screwing or unscrewing job. For instance, e-Design's ES120 has an OLED screen on it. Under that screen, there is a button to make all these operations possible. Clicking this button continuously for three times, a menu of torque shifts appears on the screen. Users can choose any of the torque shift based on the maintained objects. For some delicate gadgets, the user can set a smaller torque to avoid stripping tiny screws or damaging components.
So you may ask "what if the screw gets lost in the process? "With the ES120, of which the bit is magnetic, the screw which is made of an iron alloy can be sucked by its driver tip. Then you can place it at a specific position to keep it intact.
Aside from that, the electric screwdriver is also characterized by easy charging. With a USB plug-in, it could be charged by other electrical devices such as a computer or power bank when its power runs out. That's one of the appealing points of e-Design's ES120. Literally, there is no more worry about being out of charge.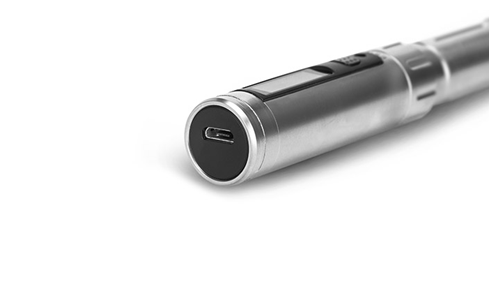 "I really love repairing things with my screwdrivers. I had to take a bunch of screwdrivers with me every time I went out until the electric screwdriver entered my life, actually, it's quite convenient," said Gabi, an electronic enthusiast of Guangzhou.
That's true. Today's electric screwdrivers are more flexible than you can imagine. They are portable and could match more bits than those traditional ones could.
As long as your bits fit into the bit holder of your electric screwdriver, you can use different kinds of bit types according to your needs. The ES120 uses 4mm hexagon bits which are universal and common in people's life.
Thanks to its small size, users can take it with them and deal with the time-consuming or difficult job anytime.
Last but not least, not only it is an electric tool, but it is also suitable for school teaching. It is easy to be dismantled, therefore, students are able to see the structure and learn its operating principle clearly.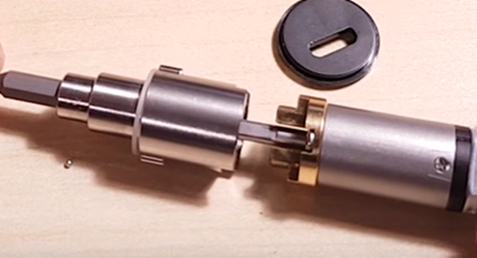 To sum up, an electric screwdriver is a product embracing a classy outlook and superb functions which add to its great convenience. It is believed to get more and more popular.