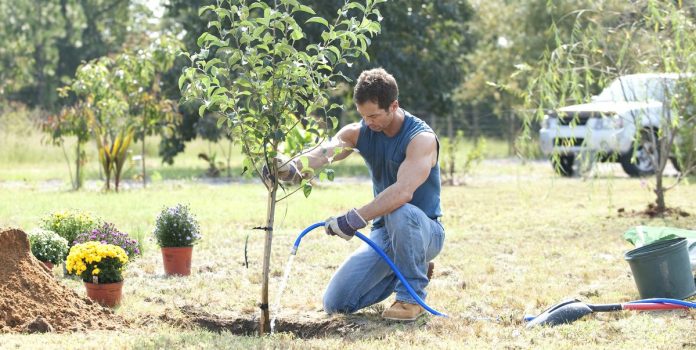 Getting out into the yard during the summer heat can leave you too exhausted to actually enjoy the spoils of your labor.  However, today's tech tools grant you enough wiggle room that you can have your cake and eat it too.  
If you're looking to lighten your workload this summer, technology is your best buddy.  Take a peek at a few of the coolest tech tools to help you spruce up your yard this summer, and look forward to enjoying your efforts with energy to spare.  
Mowing the yard has never been easier
Riding lawn mowers can be downright enjoyable, but technology has taken mowing the lawn a step further with robotic mowers.  
Homeowners now have the option to simply program a robot mower to get the job done, and then sit calmly inside the cool house while the lawn is freshly manicured.  
Robotic lawn mowers are also very efficient.  You won't have to worry about this robot cutting corners or missing spots.  
Add an outdoor living space 
Every great yard needs a great outdoor living space for hanging out and enjoying time with friends and family.  Technology has brought us weather resistant outdoor screens that can easily be put into play to create a cool theater night under the stars.  
You can also strategically place some solar powered outdoor lighting to light up paths and other hotspots in the yard.  Let the sunshine during the day translate into your nighttime luminescence.  
Keep your lawn greener 
Keep your lawn lush and green throughout the summer with a smart watering system that can read the soil.  When the soil becomes too dry, your smart watering system will know.  Conserve water while maintaining a beautiful lawn with a water sprinkler system that does more.  
Install waterproof poolside controls
When you're spending a day in the water, you don't want to have to get out and dry off everytime you need to adjust something.  Installing waterproof poolside controls will give you access to all of your home's smart features without all the hassle of drying your hands.  
When a song comes on that places the chill vibe in jeopardy, there's no need to worry.  Just grab the poolside controls, and move on to the next party.  
Let tech make you a grill master
When you're stuck with the grilling, you often feel a little segregated from the party.  It's difficult to get away from the grill, but technology has created a simple solution for this issue.  
You can now download an app that will connect to a digital thermometer.  The app will send you up to the second readings on time and temperature, so you'll never risk a burnt meal.