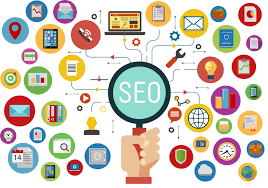 If you depend on people to locate you through a Google search, search engine optimization (SEO) should be at your priority list.  You will not be able to generate leads for your business if nobody can find you. There are sites like Traffic Tsunami that can help with search engine optimization.
Below are different methods you can employ to improve your SEO ranking.
Improve your website's loading speed
The page loading time can affect your Google ranking. Slow pages affect the user's experience. Fast loading pages increase the site's popularity. Google's search algorithm will recognize your website's popularity and adjust your search ranking accordingly.
Produce high-quality content
To direct more traffic to your site and boost its popularity, you have to give visitors a reason for returning. Your content should be of high quality, recent, and relevant. If your website has fresh information, it will keep visitors longer on your page and improve your dwell time.
Use keywords
Using keywords in your site can help it rank higher in searches. They can be incorporated into image tags, text, and more. Do not overuse them as it will have the opposite effect on ranking.
Optimize your images
You can use keywords in the title of your image as well as the caption or description. This will help the crawler identify them faster.
Break up content with header tags
Headings are useful ways to help improve user experience on your website. They break up the monotony of the content and make it simpler to read or skim through. Plus, they make everything look more appealing, which is always beneficial.
Start blogging
Blogging is an excellent tool that helps you engage with those visiting your website. It also improves your SEO ranking.
Diversify your content
Your website content shouldn't be only written words. Consider combining other multimedia elements like videos, pictures, slideshows, or audio to your site.
Optimize your site for mobile devices and tablets
With the rise of mobile device use, it is vital that your website is optimized for mobile users. Over 60% of all Google searches are mobile generated, and Google recognizes this and ranks sites accordingly.
Make sure your site is readable
It does not matter f your site is directed to a specific audience or a vast majority; it should be easy to read and understand. Use online tools to help you identify words that might be too long or hard to understand.
Fix any broken links in your site
Routinely check the links in your website and ensure they are working well. Broken links can put off visitors and lower your ranking.
Promote sharing on social media
All business need to have an online social media presence. If more people share the link to your website on social media platforms, it can boost your SEO ranking.
Conclusion:  You should always keep SEO in mind, and follow best practices. Skipping the basics or trying to cheat will affect your ranking.