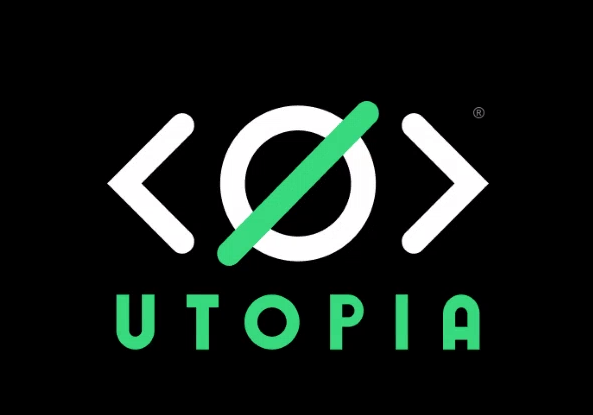 Now data circulation across the web process with tremendous speed. This state of things producing enormous profits and escalate cyber criminality and espionage. Organizations obtain significant budgets gathering the data people upload and input. This industry is licensed though it invades your privacy because people make it legal. As long as downloading apps from the web – a private messenger, a browser or registering on a mailing service, you confirm the Terms of Use. Unfortunately, not every time you read it carefully so that apps have full control over your device. The browsing history, access to media, and microphone generate materials sufficient for target ads, espionage, and identity theft when indicating card info via popular payments sited and browsers, your data transfers to a central server, which can suffer data leakage. It's not enough to be informed about surveillance. It's crucial to know how to avoid it!
Utopia is a multi-tasking and encrypted messenger supplied with an essential toolkit. This P2P environment includes a mailing tool, browser, crypto wallet, and mining bot. Read this review to the end, not to miss out on a single detail!
Secure private messenger: why to trust?
The number of Utopia active users is steadily growing. Why privacy-focused audiences rely on emerging toolkit? Explore the selling points:
Superior encryption. The algorithms that Utopia practices are the most modern and established. High-speed Elliptic curve and 256-bit AES secure the inner information transmission crosswise all the tools.
Decentralization. Utopia runs no practicing a central server. This ecosystem layout assures that sided parties won't access the local information users exchange. Data loss is avoided thanks to an uninterrupted P2P connection.
No names. Utopia members don't uncover their personas. No validation, connections to a phone number, email, or other social media. Users don't need to think over usernames. The system creates an individual code working as an ID.
Multi-purpose. Utopia is developed for various online interactions and money transfers. The multi-tasking kit is always at your disposal, and you can organize tools on the same dashboard. Enable the Hybrid regime if you want to operate a chat, wallet, and view your contact lists.
Rewarding mining. You will earn crypto money in exchange for the time you spend within the system.  Crypton coins refill your balance automatically as long as you turn on the Mining bot.
A quick summary of the built-ins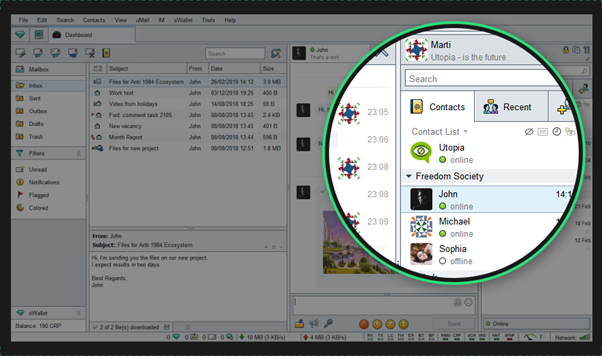 uMessenger. The local secure chatting tool is a safe place to transmit files or any type and text messages. You can connect to several people at the same time.  Significantly, uMessenger encrypts group conversations without additional adjustments. Attach hilarious stickers, play internal games, and interact safely right away!
uMail. The opt-in mailing tool is capable of encrypted emails transferring with extra files across the ecosystem. Keep in mind, that you can send letters to the only confirmed on Utopia mailboxes. Design Templates for the letters you often create, save them in drafts, and reuse without saving time! This feature drives ahead personal and business communication.
Idyll web searcher. The local browsing tool intends to protect web searches and website viewing. It is designed to view only sites made with Utopia so that privacy is 100%. The browser, compared to related browsers, never collects digital traces, doesn't store the cache. Idyll is free from bothersome ads and tracking mechanisms! Plus, you can add your webpage easily and free of charge.
uWallet. Domestic crypto transfers and card creating are the main functions of uWallet. Users make use of swift crypto transactions across the environment powered with extra security. Besides, you can join Utopia as a salesman to spread your goods or services and receive crypto on your balance.
To sum up, Utopia is a vital toolset of apps for those who are endeavoring to protect their data, actions, and gain cryptocurrency. The instruments are available free of charge over the globe. Download Utopia on your device and sleep well!