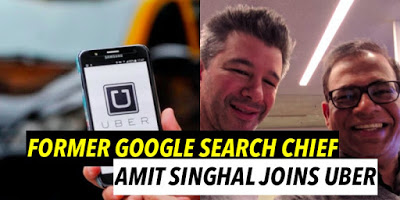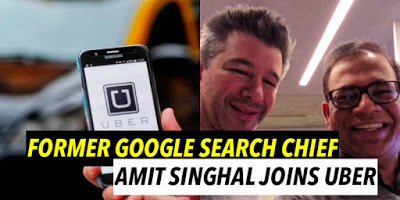 Former Google search chief has been hired by Uber as SVP of Engineering. The latest hire, Amit Singhal, has an accomplished history. He will now be part of Uber's maps and marketplace department, and also share his advices with CEO, VP and the co-founders on their efforts to build out the best through self-driving technology. The last news that broke about Singhal was when he was bidding goodbye to Google, after working for 15 years. His farewell letter to Google sounded more like a retirement announcement, but here he is back to work and share his insights with Uber. Singhal is back in an executive role with a much younger, yet influential technology enterprise in the world.
The 'Singhal' Story-from zero to hero!
Singhal first started off his career with a foundation established by him and his wife. Having thrown himself into philanthropic pursuit, his aim was to deliver quality education for those kids who were not able to attend top schools because of financial situations. He started off from Jaipur with 50 children, which increased to 500 within a year, and then a thousand in couple of year. Singhal and his wife's hard work paid off and they began to be happy with the results.
And then Google stroke, where he worked as search chief for 15 years. Having worked for years, he decided to retire off from work and spend time on the things that he had always wanted to do.
"I basically dumped myself into the foundation, and family – I used to drop and pick my son to school daily– and for my foundation I've been travelling to India every three months to get that foundation program that we're running", stated by Singhal.
In what aspect, Google's working experience will be helpful?
Singhal happened to meet Travis Kalanick through a mutual friend, their casual meetings and conversations sparked interesting idea in Uber's founder and he proposed to work with the search expert. His idea was to combine Uber's potential impact with former Google search chief. Kalanick believes that Singhal's experience at Google will help him in his work at Uber. They both had a long ongoing conversation about the engineering hurdles that the company is facing, and they discussed ideas to achieve its aim.
Singhal discovered that the Uber Company has some of the toughest computer science challenges that he had not seen in his career of 25 years. That tough computer science challenges appeared extremely intriguing to the computer science geek that Mr.Singhal is. It was like a puzzle he wouldn't like to drop without solving it. Singhal explained this in an interview; he said ""The science that goes on behind that is equally as complex as what we had to do at Google. My expertise is taking deep science, building amazing engineering for the implementation of that science, and making good teams for the user ease, the complexity is hidden, and their lives are improved in one way or another."
There at Google, he was offering instrumental helping establish the search engine through innovative ideas and advancements. And his work will be pretty similar to that; it will be similarly effective yet invisible to everyday Uber users. In answer to the question about his role at Uber, Singhal answered, "At Uber, this team is actually hiding so much deep science behind a very simple interface of pushing a button and having a car show up.
Singhal couldn't resist working with Uber
Singhal's conversation with Uber's founder made him conjure up a spell he couldn't resist. It deemed as a challenge he was willing to take off and put in his philanthropic efforts back on track. Uber's world changing potential when combined with the odds that the company was facing hooked Singhal just like other leading investors and skilled engineers. "So between things going very well at the foundation and me, actually deeply understanding what Travis and Uber's team are making effort to do, and how much advance computing, machine knowledge and AI would be needed to make true the company's dream, so it's what that I couldn't refuse to accept", Singhal gave explanation.
Singhal was also drawn to Uber because he noticed that the company has potential to impact on people's lives. He is aware of the fact that mobility has tremendous potential and Uber is one unique company that is going to address all the issues.