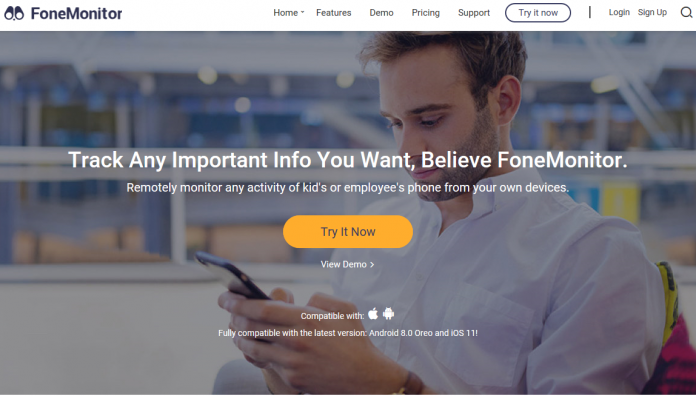 If people are wondering whether they can spy on WhatsApp of their beloved ne or anyone, then this article will give them the answer. WhatsApp is a messenger app of a cross-platform that allows users to be able to send messages to others for free. It has become important part in many people's lives where people can use it every day in every second. Nowadays, senior citizens, adults, and even kids use this messenger app to communicate with their family and friends. WhatsApp also encrypted someone's message since it can't be seen by other third party. This can be one of the factors why people start thinking about spying someone's WhatsApp messages. It is one of the most searched things on many search engines. In this article, people can find solution to that question.
There are three parts divided in this article. The first part is how to spy someone's messages on WhatsApp without her or him knowing. The second part is about how to spy someone's messages on WhatsApp by phone number. And the third part is how to spy someone on WhatsApp from Android/iPhone or PC. Let's check it out!
Part 1: How to spy someone's messages on WhatsApp without her or him knowing
There is a way to spy on someone's messages on WhatsApp without her or him knowing. The only thing that people needs is the right and perfect apps and tools to accomplish this task. By using FoneMonitor, people can spy someone not only on WhatsApp, but also other social networks like Instagram, Snapchat, Facebook, and others. It is the one of the best spy apps to find out someone's activities on their iOS and Android devices including the most familiar brands on iPhone or Android.
FoneMonitor has a feature that is called as Keylogger which can let people see the keystrokes typed by someone on his or her device. By using it, people can not only know the password someone uses on many kinds of social networks, but also use it to hack them. FoneMonitor isn't visible and can work it stealth mode to the target, so people can be certain that it can't be caught by that person. This app is the answer to everyone's question how to spy someone on WhatsApp chat without giving notification to the target. Besides that, this app will give you list of text messages, call logs, photos, videos, and websites visited stored on that person's device.
The advantages of choosing FoneMonitor as a WhatsApp spy tool
· People can track GPS location of someone and set his or her Geofences on a specific locations to get notification
· It allows people to read conversations on someone's device
· It has a restricted schedule feature that people can use to limit or block app or internet usage
· It can capture screenshot of someone iPhone/Android. People can also see the media files like videos or photos stored on his or her device
· It maintains apps' log used on someone's device with an exact number of how long and how many times he or she used
Steps to spy someone on WhatsApp chats, videos, and photos
· The first step is to sign up on FoneMonitor by entering its official website. After that, click on a button of "Try it now" and you will be directed to a page where you can sign up. On that page, you have to enter an email address as well as password.
· The second step is to enter the personal information of the target including his or her name and age and choose the OS installed on his or her device. There are two available options which are iOS and Android.
· The third step is to setup the devices on the device belongs to the target.
· The last step is to wait for the app to sync the data using your account and then go to the FoneMonitor's control panel. In Android, click on "Social Apps" and choose "WhatsApp". For iPhone, chose "WhatsApp" in the control panel to check the target's WhatsApp chats.
For more detail step for each Android and iOS, you can go to FoneMonitor official website.
Part 2: How to spy someone's messages on WhatsApp by phone number
It is possible to spy on someone people target on WhatsApp just by using his or her phone number. It is because phone number is a big security threat as people can find out someone's private chats and information. Even though it is possible to access the target's account of WhatsApp with his or her phone number, people will need access to his or her device in order to receive the OTP sent on it. But then it will remove the app of WhatsApp on the target's device and he or she will realize that his or her WhatsApp is hacked.
Part 3: How to spy someone on WhatsApp from Android/iPhone or PC
Do you want to spy on someone's WhatsApp chat from Android/iPhone or PC remotely? Well, by using FoneMonitor people can certainly do that. This WhatsApp spying tool has the best feature which is remote monitoring. For iPhone users, they don't have to jailbreak their device and just use their iCloud ID and password to monitor someone's WhatsApp chat. For Android users, they need to install the app on someone's device they targeted. The app will not be visible for the target. It will work in the background and will be forever hidden both in the running apps or icon tray. The target only way to find out that installed app is by finding it the application manager. But people can avoid that by using tools of app lock.
With FoneMonitor, you only need short steps to spy someone's WhatsApp data on the device of target. Here are the steps:
· Sign up for an account in FoneMonitor
· Give valid email address and password
· Enter the detail information about the person who wants to be spied
· Setup the target iPhone/Android smartphone
· Start to monitor and log on to the account of FoneMonitor on the device. It can be a laptop, PC, iPhone or Android device
· Go to control panel and click on WhatsApp
· Now, the chats and messages of target's WhatsApp can be read