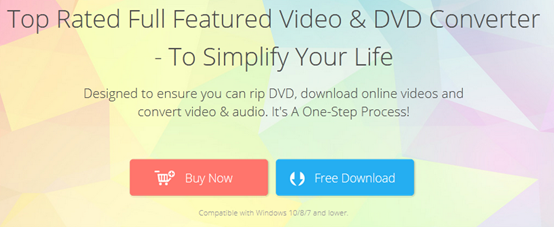 As you know, audio files in WAV format have high quality, but due to their excessive size, they are limited on the device when they are played. So do you want to break this size limit to enjoy high-quality music on more devices? In this article you will learn about a powerful converter and how to convert WAV format with its help.
WAV vs MP3
WAV is a lossless audio format that is widely used in audio files, but media files with .wav extension are larger than normal audio, so your disk space will be heavily occupied if you want to share and save WAV files. What should we do to compress the size of WAV files to be compatible with more devices and free up storage space? The most common and desirable method is to convert them to MP3 format. As everyone knows, MP3 is the most used format among all audio formats. The audio files named after it not only have good quality and small size, but also can perfectly match almost all devices and players compatible.
Different from WAV, MP3 is a lossy compression format, so it is difficult to convert WAV to MP3 without any quality loss. There are many tools on the Internet that are advertised and they can convert WAV to MP3 perfectly, which often disappoint users. Fortunately, a software called WonderFox DVD Video Converter can help you convert WAV to MP3 without loss of quality. Next, we will talk about its features and tutorial.
About WonderFox DVD Video Converter
It is a powerful program that has served users from 150 regions for more than ten years, which can convert almost all common and rare media formats and help you improve video quality, download online videos, rip DVD collections, edit videos, create ringtones for devices, etc.
Step by step guide on converting WAV to MP3
Step 1: Install the software and add WAV files to the converter.
The first job we need to do is to download the converter and start it, and then click the "Add Files" button to add the WAV file to the software. Or you can drag the file directly to save operation time.
Step 2: Select the output format of the target – MP3.
Open the "Output Format" menu on the software and find "MP3" as the output format in the "Audio" series.
In addition to converting audio files, it also supports conversion of exceed 300 video formats, such as MOV to MP4, M4V to VOB, WMV to AVI, MPG to MKV, etc.
Step 3: Start converting WAV to MP3.
Select the output folder you like and hit the "Run" button to convert WAV to MP3. After few seconds you will see the new MP3 audio file on your computer.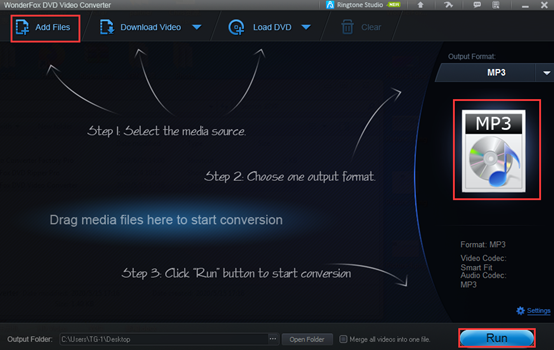 What else can it do for you?
Quickly download popular videos, shows, movies, music from lots of websites for offline viewing, including Dailymotion, YouTube, Liveleak, Yahoo, etc.
Rip DVDs to 300+ video formats.
Convert the video from SD to HD.
Convert videos and DVDs to phones, desktops, laptops, tablets, TVs, etc.
An embedded editor helps you cut, clip, crop, add special effects, merge, watermark, etc.
Add subtitles to videos.
Automatically detects the main movie from 99 titles.
Split audio from video files.
Pros
Easy to use.
Multiple multimedia tools in one.
Support multiple formats and devices.
Allow batch download and conversion of media files, add 10 at a time.
Multilingual interface serves users in different regions, English, Japanese, Spanish, etc.
Cons
Only be run on Windows devices.
Final words
WonderFox DVD Video Converter helps you to convert WAV files to MP3 at lightning speed and keep high quality. Install it on your PC to enjoy lossless music quality without worrying about device compatibility and disk space issues.