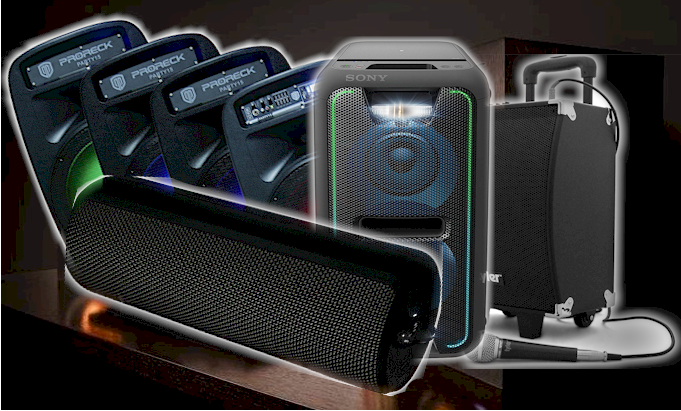 There will be no great party without great music. To fill the air in your party site with great music you will need best party speakers with excellent performance. Today, there are some party speakers available in the market that will be perfect to whatever theme you have for your party. Learn more about them here.
Best Party Speakers You'll Find on the Market
A party speaker need to fulfill specific qualifications to be considered best. The RMS/ peak and long battery life are among the specifications. Here are best party speakers that you will easily find in the market now.
1. Tyler Tailgate Portable Wireless Bluetooth Speaker (TWS404-BK)
The first great speaker for party need is TWS404-BK from Tyler Acoustics. Though the brand is not as popular as its competitors but the company has produced high quality speakers with loud sound that will be suitable for your parties. The product is 60 – watt dynamic speaker that will provide you with excellent sound for your party music. This handy speaker can produce sounds as loud as instrument amplifier and PA speaker can do. With only one full battery charge, you will be able to use the speaker for up to 75 hours nonstop. Meanwhile, the it also has battery life with exceptional duration. The product is also easy to use and completed with wheels so you will need much effort to transport it. In addition, the speaker also comes with telescopic handles to make it easier you to hold the product. You will also love this product since it comes with 5 – band equalizer to help you tweak both your vocal output and guitar.
2. Sharper Image Tailgate Speaker (SBT 1008)
The next best speaker for party you can find in market now is Sharper Image Tailgate Speaker (SBT 1008). This product comes with a lot of great features to provide you with great entertainment system. This SBT 1008 is equipped with Bluetooth so you can stream music easily from your mobile devices. It also has telescopic handles to make it easier for you to hold it. The wheels added to the product function to enable you transport it in more practical ways. In addition, the 8 – inch sub-woofer available in the product will carry you great vibe and excellent music sound to your party. The most interesting thing about the SBT 1008 is that the item will make it possible for you to play music for long hours continuously due to the battery with high capacity provided. The speaker is also equipped with external power system to allow you charge the product in car or wall socket. There is ¼ inch input that can be used for guitar input and microphone.
3. Proreck Party 15-Inch 2000 Watt Powered PA Speaker System
Another great speaker you can use for your party is Proreck Party. Though it comes with more affordable prices if compared to its competitors but it is considered as durable speaker with great output. This speaker set consists of 9 speakers to bring you great music and awesome sounds to your party. It has a couple of 15 – inch woofers with maximum power rating of 2000 watt. The Bluetooth connectivity provided allows you to enjoy stream music wirelessly from your gadgets. To tweak your mix, there will be 5 – band equalizer available. Other interesting features you can enjoy from this product include a remote control, one XLR to ¼ inch jack cable, two steel tripod stands, 30ft speak on, and a microphone. There will be display screen interface with small size available to enable you view the settings. Best of all, the speaker is also suitable with LED's four colors to allow you enjoy party with awesome music and vibe.
4. Sony ZS – BTG900 Portable Bluetooth Wireless Boombox
Sony has been known for long time as big company that produces products for entertainment purposes include ZS – BTG900. This is one of the best party speakers in the list due to the wonderful features available in the product. The also speaker comes with two tweeters to make it great device. It is also equipped with 5 inch – subwoofer and two 4inch mid – range woofers to bring you great music to your party. Though the ZS – BTG900 only comes with power rating of 20 watt, but the sound produced by this product will not disappoint you at all. With the Bluetooth connectivity available in the product, you can stream music instantly from your smartphones or other mobile devices. The speaker is also supported with external power system.