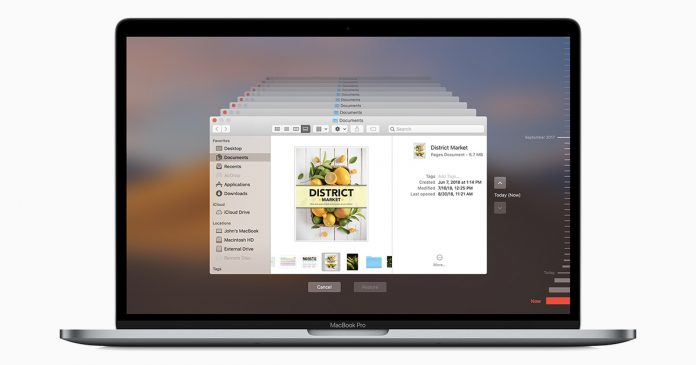 Introduced in macOS 10.5 and present in every new release since, Apple's Time Machine is an easy-to-use and straightforward method of recovering lost data. But how exactly does Time Machine work? Perhaps even more importantly, what happens if you can't recover a file through Time Machine?
What is Apple Time Machine
As mentioned, Apple Time Machine made its debut in macOS 10.5. It works by creating and storing incremental backups of your personal files for later restoration, recovery, or retrieval. Specifically, it allows you to restore an entire system or individual files via the Mac Recovery HD or the original macOS installation DVD.
However, it's important to highlight the fact that Time Machine is not meant as an offline data storage service. As noted by Apple, "Time Machine is a backup utility, not an archival utility."
It's also important to note that Time Machine only supports a limited number of storage configurations. While drives connected via Apple's AirPort Extreme 802.11ac model are supported, earlier generations of AirPort Extreme are not compatible. Nuances and inconsistencies like this leave many users searching for a third-party solution at the end of the day.
Third-Party Mac Recovery Software
If you do choose to pursue a third-party solution, know that there are plenty of options available. Some of the best and most reputable options include:
Data Rescue 5 for Mac: Featuring integrated support for Time Machine as well as the ability to recover lost files from internal and external drives, SD cards, and more, Data Rescue 5 for Mac is a versatile solution. Although there is a free version available, the paid version tends to run a bit more expensive than its competitors.
Disk Drill for Mac: One of the most comprehensive solutions available, Disk Drill for Mac provides support for more than 300 different file types across iOS and Android devices.
PhotoRec for Mac: Although the name implies certain limitations, make no mistake – this is a comprehensive data recovery solution that supports a variety of different files. PhotoRec for Mac also runs in read-only mode, thereby eliminating the risk that it will overwrite any of your lost data.
R-Studio: R-Studio for Mac is a great solution from a trusted source. Developed by the professionals at R-Tools Technology, it's an affordable solution that was designed specifically for data recovery within the Mac OS environment. Not only does it support Mac file systems, including APFS, HFS, and HFS+, but it also includes integrated support for Windows, Linux, and more.
Wondershare Data Recovery for Mac: Compatible with any version of macOS since 10.6, Wondershare Data Recovery for Mac is a powerful tool that includes a free trial. It supports a myriad of different file types, including documents, images, videos, audio, and more, and it's usable in file, partition, and raw data recovery projects.
With that in mind, there's no need to worry about restoring or recovering your lost Mac data. There are plenty of options to choose from – each with their own specialties and features that make them worthwhile options in the event of a data emergency with your Mac.