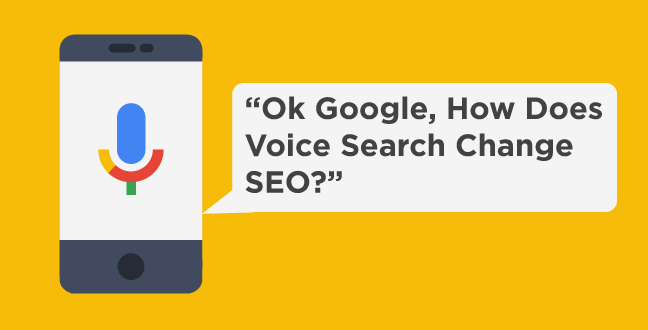 It is no secret that the number of voice searches has grown exponentially for the past half decades or so, with reports revealed that it has now account for 20% of total searches on Google.
Meaning, if we are not optimizing our site for voice searches, we are missing out on 20% of the pie, which is a lot. So, in this article, we will discuss 8 things you must consider to make your SEO strategy ready for voice searches.
The good news is, the basic principles are similar to 'regular' SEO. So, if you have been practicing the best practices of SEO, chances are, you won't need any major adjustments to your overall strategy.
There are, however, certain tactics and new approaches you will need to make to specifically optimize for voice searches. Let us begin with the first one.
1. Conversational Conversational Search Query
Most of us don't type, or write the way we speak. That is even more true when we are Googling something. Let's say we are going to search for a new restaurant in Paloma. If we search by typing, we usually use shorthand, such as 'restaurant Paloma'.
However, when we ask our Google Assistant or Alexa, we tend to use conversational approach like 'what's the best restaurant in Paloma?".
So, obviously this will affect the search queries, and we should try to put natural speech patterns into considerations when choosing our target keywords. Thankfully, there are a lot of available tools to assist us with this process, and we will discuss them further below.
2. Short-Tall Keywords Are Now Obsolete
Even before the rise of voice searches, the focus on long-tail keywords are already increasing.
As we have mentioned above, we should consider conversational queries in order to optimize our site for voice searches, and the answer obviously lies on long-tail keywords. Most conversational queries come in the form of natural questions, the 5W1H.
Let's take a few examples:
How to make French omelette?
What's the best books in 2017?
When is the release date of the next Game of Thrones?
Why is my site penalized?
Where is the nearest phone repair company?
As we can see, each question is not related to a specific keyword, but specific phrases. Voice search optimization is about providing the most proper answer to those questions, which will be ranked by Google. To give the most relevant answer, we should target a long-tail keyword while providing the answer.
For example, to target this question:'When is the release date of the next Game of Thrones?', you can focus on ' Game of Thrones season 8 release date' as your long-tail keyword.
3. Mobile Queries
Yes, yes, we've had enough of hearing how mobile searches are rising for the past half decade or so and has overtaken desktop searches. However, unknown to many, is that although we used a lot of similar queries in both desktop and mobile searches, there are certain queries people use exclusively with mobile searches, and vice versa.
This is mainly due to the GPS capabilities of our mobile devices, as well as other smart features, allowing us to use certain queries that won't be effective in our desktop. The most common examples being the location-specific "near me" queries, and time-specific queries such as opening and closing hours.
Since a lot of voice searches are done on mobile devices, we will need to consider these queries in their long-tail and conversational forms (see above points).
4. Which Search Engine?
For 'normal' website optimization, most of the SEO experts like Mike will target Google as the primary search engine. Yet, we should consider the fact that Bing is the primary search engine for Apple's Siri and iPhone. iPhone and other iOS devices still account for almost 15% of all mobile devices. In some countries, iPhone has a bigger market share, such as the 31.3% share it has in the U.S.
So, if you are planning to truly optimize your site for voice searches, you might want to also focus on Bing besides Google.
5. Figuring Out User Intention
Users often have different intention when doing voice search over typed search. Let's think for a minute here: when's the last time you did voice search, and why did you do it instead of typing? The answer can be various, from driving to simply lazy. However, they can all be boiled down to this: you want a specific, immediate information when your hands are not available (or you are too lazy to use them, which is perfectly fine).
To repeat, most likely we want a very specific information with a voice search: it can be the the opening hours of a store, the release date of a movie or book, the price of a product, and other similar information.
So, the first thing you will have to do is to figure out these specific intents related to your product or service, and making the information available. If you are a brick-and-mortar business, for example, ensure information like your complete street address and opening hours are available on your site. This might seem obvious, but many businesses forgot to do this very simple thing.
Also, another common mistake is making these pieces of information available in an image. Yes, Google does crawl through image contents to trace these information. However, making them available as good old HTML contents will increase your visibility.
The next thing you will need to do is to provide all the necessary information for your products or services. Anticipate your prospective customers' questions, and answer them preemptively. An easy way to do this is to include an Frequently Asked Question (FAQ) section in your site.
So, the first, and arguably the most important thing you will need to do is to figure out the questions your customers will ask that are related to your product, service, niche, keyword, and industry. Then, optimizing for voice search is simply answering those questions.
6. Keeping Your Google My Business Up To Date
Even if you are not a brick-and-mortar business, there are many benefits in having a Google My Business listing, and and up-to-date one with all your current information. If you are a brick-and-mortar business, well, it is even more relevant.
Keep your Google My Business listing as complete, comprehensive, and relevant as possible. Also, consider adding high-quality images to your listing. Although images won't directly impact your SEO, it can be the major difference when it comes to getting ahead of your competitors.
7. Use Structured Data
Structured Data, or what we often call Schema is a markup language to optimize our site to search engines. With structured data, we can 'explain' what the data on your website actually means to the search engine, which in turn will allow Google to understand your site more accurately.
Structured data is a very powerful tool available for SEO, yet is often neglected by many, and it is especially useful for voice search because of rich snippets.
Explaining structured data and how to optimize it for SEO and voice searches will require a dedicated guide. So, stay tuned for our guide on Schema and structured data in the very near future.
8. Optimize Your Adwords
If you already have an AdWords campaign running,there are several steps you can take to further maximize the AdWords campaign for voice search. This is especially useful if you are targeting those 'near me' searches, both for typed and voice queries. Here are what you can do:
A. Location Extension
AdWords has a handy feature called location extension, which allows your address, phone number, and even direction to your business to be displayed on your ad's snippet. If you have multiple locations tied to your business,you can even opt to use all of them, and Google will show the nearest location to the searchers. This is a very powerful feature, and especially if you are a brick-and-mortar business, a must-have.
B. Local Search Ads on Google Maps
Again, if you are a brick-and-mortar business, the Local Search Ads on Google Maps is a good investment. This guide by Search Engine Journal will help you with this very effective ad type.
End Words
With smart speakers and other smart home technologies being more popular than ever, we can expect voice search to continue growing in 2018 and beyond. Optimizing for voice queries is no longer a luxury, but a necessity for those who want to stay ahead in the tough SEO competition.
There are obviously many more tactics and SEO strategies you can do besides the 8 things we have shared above. However, they are a good place to start, especially if you haven't put any effort to voice optimization at all.
In the future, we will discuss other specific tips and tactics for voice search optimization, so stay tuned and leave your suggestions on topics you would like us to discuss.