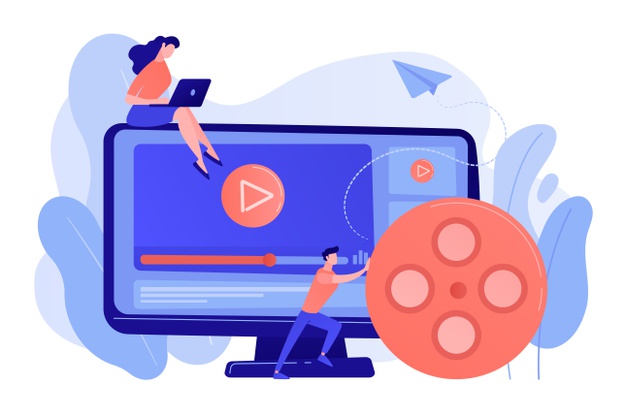 The production of animated videos for business purposes is increasingly popular. However, a factor that provides a great quality differential for this type of content is the animated video script.
Nowadays, animated videos are becoming increasingly important and are even being used in companies' video marketing strategies.
The power of videos for companies' digital marketing strategy is already clear. For example, in a survey conducted in the U.S., 90% of consumers said they were more likely to buy a product after watching a video about it.
In this sense, animated videos gain more and more space, given the facility to be produced and the different formats, which serve the different types of companies.
In this article, you will learn how to plan, build and script animated videos. Find out what is essential for an animated video that engages the audience and attracts more customers to your business. Come on!
What is a video script?
But after all, what is an animated video script? A script is the planning, made in a written document, where all the data of the future video production, be it of films, soap operas or video productions for the companies' video marketing strategies, are placed.
We tend to associate the video script for productions involving people, film sets or even longer content.
However, even for animated videos, even if they are short, the script is a fundamental planning for the quality of the content.
Among the data that will be part of the script are:
Description of all scenes;

Description of the costume;

Speech by the actors;

Change of lighting, and;

Animation transition
Finally, the video script will contain all the necessary guidelines for each part of the production to come out in the correct and organized way.
Why do animated videos need scripting?
If your desire is to produce an animated video to publicize your company's products or services, we can apply this same concept of organization to the production of the animated video script.
Even animated videos need a script, because a good planning of the scenes, transitions and soundtrack, for example, is necessary, so that the material has quality. And the script will help with that.
Therefore, even if actors, film sets and other elements of video content production are not involved, in the case of animations, the script will guide the narration and the development of the scenes.
Thus, everything will fit together in the best way, with organization, logical sequence and planning, to convey the best message about your company, and the products and services it will offer to customers.
How to make an animated video script in 4 steps
Now that you know the importance of the script, even for animated videos, you can't go on to producing an animation without thinking about his script before.
Always remember that the main purpose of your video is to show people your brand and what are the benefits of the products or services it sells.
So, next, learn how to make an animated video script and, with it, guarantee the quality of your production, so that it sends the right message to your target audience.
Check out the 4 steps to make an animated video script:
Define the purpose of your animated video
The first step to take to make a quality animated video script is to define the purpose of your video.
Ask and answer the following questions:
What target audience do I want to reach?

What is the big problem that my product will solve?

What is the main purpose of this video?

What do I want to show with this video?

Which image of my company do I want to present?

What learning and feelings do I want to awaken with this video?

Which Call to Actions will we insert?
These questions will help you get started with your animated video script. Since it will be easier to define what to build, knowing where you want to go with the content produced.
Remember the word limit
With the goals set, it's time to actually start writing the script for your animated video.
In this step, it is important to be aware of the amount of words that will be used. The ideal length for an animated video is 90 seconds.
Therefore, in the animated video script, try to limit the number of words, using important and crucial keywords, so that your audience knows exactly what is being said.
To get an idea of ​​the number of words you can use in your animated video script, consider the following list:
45 seconds: 90 to 110 words;

60 seconds: 120 to 170 words;

90 seconds: 200 to 250 words;

2 minutes: 250 to 300 words.
Adopt a methodology for writing the script
By this point, you may have already noticed how the result of your animated video script will depend (and a lot) on the main purpose of the content. From this point on, the script for the animated video itself will be much more fluid.
However, here is an important note: The script of an animated video is different from a product video or an institutional video, for example.
This is because, in an animated video, creativity will play a somewhat more important role. In this way, adopting a methodology for writing the animated video script will make all the difference. Doodle Maker can be an alternative to solve this problem as well.
In common, three methodologies and types of script for animated video are adopted:
The Problem X Solution Method: With this methodology, in your animated video, you will explain the solution that your company's product or service offers, for a problem of your target audience. Therefore, it is important to address the problem of your audience and demonstrate what your solution is, to solve this problem.

The Historical Method: One of the techniques for producing an animated video is to use Storytelling. To do this, build a story that presents the benefits of your products, using the emotional point of view of your customers.

The Direct Explanation Method: This is a more direct methodology for an animated video script. In it, the introduction already speaks of the main message, then the key points of the solution are explained and, in conclusion, these points are reinforced.
Outline the design of your animated video script
When writing an animated video script, always remember the following maxim: "A picture is worth a thousand words".
You will create an animated video, so there needs to be as many visual and audio elements as possible to send an assertive message to your audience.
Thus, still in the stage of the animated video script, make an outline of the scenes of the animation, considering the desired transitions, what will happen in each scene and how the story told in the animated video will unfold.
5 tips for an amazing animated video script
Now that you know how to make an animated video script, how about making it awesome? See our 5 tips below and make an amazing video.
Know the basic structure of a script
Whether for great films, series, soap operas, or even shorter animated videos, the script for these productions follows a generally common structure.
In this way, the basic structure of an animated video script is divided into three "acts":
What? – What does my product or my company do? What will people find with my company?

Like? – How will my company solve the problem of my target audience? Showing this form of solution will immediately attract more customers.

Why? – Tell your audience why your company is central to their lives. This is the part where you show the features and benefits of your products or services.
Following this structure, you will experience your customer's pains, how your product will solve them and why your company offers the best solution, not your competitor.
Make the video short
As we talked about before, an animated video should ideally be 90 seconds. This is an ideal time to grab the audience's attention and not bore them.
It has been proven that 85% of people watch an entire 30-second video, but only 50% will watch a video completely, if it is two minutes or more.
So, when creating the animated video script, don't forget the time. Try to get your message across in a few minutes and at most in a minute and a half. Thus, the results of your strategy will be raised to the maximum potential!
Get straight to the point
In addition to being short, the animated video should also get straight to the point, delivering your business value proposition right at the beginning of the video. Thus, you will not bore your audience before they have access to what your company proposes.
But, don't worry, even if it seems like a short time to explain about your company's product or service, if the public is interested in the content, they will naturally seek to know more about it.
So, when creating the animated video script, don't try to explain everything your company does. Get to the point, thinking about what is important, and what should be included in the video, and what is not.
Focus on your audience
When creating the script for your animated video, remember a key point: Focus on your audience and don't deviate from the information. The most important thing in your video is to reach who really matters.
Show them the solution to their problems and how your brand will help them by sending a clear and direct message.
Avoid, as much as possible, sending conflicting messages, which can cause any confusion in your audience. This will ensure that the right message is sent to the right audience.
Have a clear and defined CTA
Something that cannot be left out of an animated video script is the Call to Action that will be sent to anyone who sees the video. That is, what action do you expect people who have seen the video to take after they finish watching it.
Do not upload too many CTAs in your video as this can cause confusion for your audience. Instead, send only one CTA, which is clear and well defined.
Thus, at the end of your video you will definitely show what action you want the customer to take.
Conclusion
As we have seen, an animated video script is essential for good production, which sends the right message, to the right audience.
This planning will ensure that the investment made in the production of this type of content achieves the best possible results.
In addition, we can add some final tips for you when writing an animated video script:
Find the right tone: Think about your audience. Who they are, where they come from, their age and background. All of this will help you to find the right tone that the video should have.
Present the benefits and not features of your product or service: A great way to build the script for your animated video is to talk about the benefits of the products or services, not their features. The idea is to present the product to the customer and invite him to imagine how his problem will be solved.
Certainly, with the tips that were covered here, you will be able to create a good animated video script and produce strategic and accurate content.