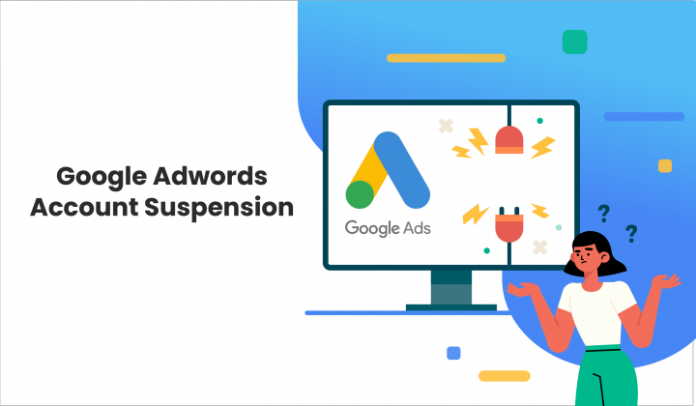 Imagine a marketplace which is visited about 3.5 billion times a day. It should be the best place to advertise your business so that it can reach a potential user base of more than a Billion. Advertising to a huge user base can reap rewards for your business, giving you approximately three times of your invested money. That is the potential of Google Ads and services like Google Adwords account, which help in publishing them. That is why the idea of Google AdWords account suspended should send a chill down your spine.
Google AdWords Suspension doesn't only hurt your business but also have a heavy impact on your revenue, as you miss out on a huge opportunity of attracting a huge number of potential customers.
Now, the question arises, how did you have your Google Adwords account suspended in the first place?
A simple and factual answer is, Google has a set of policies that are enforced to maintain a healthy environment in the world of Ads. A deviation from these policies can get your Google Adwords account suspended.
Furthermore, there are plenty of other reasons that can lead to Google Ads suspension other than the Google policy violations. In this post, we are about to find out the most common reasons behind a Google Ads suspended and steps to unsuspend that.
Top 5 reasons for your Google Ads Suspended
Let us understand why Google suspended your Adwords account through Top 5 reasons.
1. Repeated Policy Violations
Google's ad policies are extensive in nature and it expects the advertisers to adhere to them completely. Google is like a strict class representative who notes every violation and wants to make sure that you don't repeat them.
However, If you do end up repeating the violations, it results in your Google Ads Account Suspended. That is why repeated policy violations are the number one reason for your account's suspended status. Maybe you should take the warnings from Google a little more seriously.
2. Quality and User Experience Issues
Providing the best customer experience is what Google is known for. Since it intends to uphold that image, your Google Ads can get suspended for not staying up to the mark. For Google, ads are not present to just generate traffic, they have to provide a good experience to their users as well.
3. Putting Google's users at risk
If your advertised website appears to be unsafe for its community, Google simply suspends it. Suspicious activity on the advertisement or any threat to the Cybersafety of its users can take you towards Google Ads suspension.
In addition to the malware threats, suspected Phishing activity or other Social Engineering activity can also trigger Google to take action.
4. Payment defaults and Billing errors
Like the advertisements are good for your business, they are good for Google's revenue too. You will receive multiple reminders for pending payments, failing which, your Google Adwords Account suspended and you have to make amends to get it back.
5. Cloaking Advertisements
Cloaking is the method where the user sees something completely different from what Google's team can see at the back-end. Google considers this as a misleading advertisement and suspends your account to protect its users.
Google Adwords Account Suspended: Steps to get it back
Once you know the broad reason why your account got suspended, it is time to take action and get back in the game.
1. Evaluate your website
If it is the case of a malware infection, you should not wait any longer and get your website evaluated as the first step. Let the experts do their job and check for any possibility of a Cyber Criminal meddling with your affairs.
If any issue surfaces during the evaluation, fix it immediately and reset all the admin accesses.
2. Fix any disapproved Ads
Check the status of your Ads and see if it is getting reflected as 'disapproved' in the 'Ads and Extension' page. If the ad has been disapproved, hover over it and see the corresponding policy violation. Once you are thorough with the policy violation, simply edit the ad or extension to make it compliant with the policy.
Once you save, your Ad will be automatically sent for review to Google's team.
3. Contact the Google Team and send for review
For any further doubts or clarifications required, you can contact Google by filling a form. Their team will provide you with the clarifications that you requested and help you with the doubts.
However, if you are unable to contact the team regarding your Google Adwords Account Suspended, you can also call them and get the clarifications.
To Sum it up
With everything getting digital, the cybercriminals are also evolving and getting innovative in their methods. It is not just your data that is under the looming threat. They are coming after your Advertisements too.
They can infect your advertisements with malicious content, that can trigger Google to suspend your Adwords account. It can impact your revenue in a severe manner and give that valuable ad space to your competitors. Astra's Professional Malware cleanup can help you get back on your feet in no time and get your account up and running.
The best policy is to act actively, instead of a passive reaction to any mishap. Instead of cleaning up your website after an attack takes place, it is better to scan it regularly for any issues and stay on top of your game.