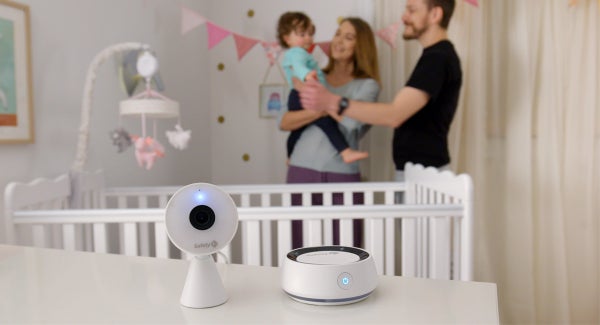 Baby monitors are a Godsend when it comes to helping you as a parent keep an eye on your baby or toddler. Not only does it give you peace of mind you need to not run in the room checking on them every few minutes it also provides you with the freedom to move about the house freely getting things done while your child sleeps.
Most new baby monitors allow you to be selected when there is sound or movement in the crib, two-way communication, and high frequency so that the picture quality remains crisp no matter where you are with the home. Which are all important especially for new parents that get a bit antsy when leaving your child in another room to sleep alone.
There are a few things you will want to consider prior to making your final baby monitor choices. The first is the battery life of the product that you are choosing to use, a long lasting battery is helpful especially at night .
You don't want to have to constantly charge or keep the monitor plugged in due to short battery life. When your searching for the perfect monitor choose one that has a rechargeable battery they are known to last longer and save you money in the long run on replacement batteries.
Next look for a monitor that also comes with a monitor for the parent. This way you don't have to use your cellphone as a monitor and won't kill your phone's battery on a regular basis.
Parents' monitors are specifically made with night vision so that you are able to see into your child's room without going in and disturbing their sleep. It is also made for portability so you can take it with you as you move about your home and won't have to sacrifice picture or sound quality.
Next is your camera quality the whole point of a monitor is to be able to see your child clearly without having to enter the room. Picture quality is important therefore you don't want to select a monitor that has a history of providing grainy camera and audio quality.
You should look for a monitor that is at least 1080 hp and if you can find a monitor that rotates so that you can see the whole room that's even better. It will allow you to see any and everything and keep your child safe at all times. Which as parents that's our number one priority is to keep our little one as safe as possible.
A huge factor to take into account when selecting a monitor is the alert system that it uses. There are certain things you need to be selected of low battery, temperature change, movement, crying, and a breathing alert.
You can select a monitor that vibrates to alert you to any of these changes or you could opt for one that makes am audible noise when it alerts you. It's about choosing an alert style that you will respond to and works perfectly for you.
Lastly, and extra cool things that the monitor can do is a plus when you're selecting the one that you want to use within your home. Some come with night vision, two-way capabilities, lullabies, white noise players, cry detection, sleep detection, sleep analytics, breathing detection, noise control, and much more.
Because technology is so advanced now you have free choice of what you would like your monitor to have. Just remember that sometimes the addons that make a monitor tech-savvy may also come with a larger purchasing price. Whichever monitor you choose to go with you can go wrong with any of the ones we have provided for you and your baby in the link above.