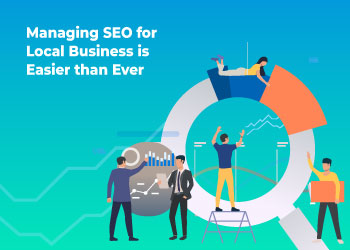 SEO management often takes a toll on businesses, especially if you have a nascent or start-up enterprise. It takes a significant cut on your budget and becomes one of the drags keeping your operational goals at a standstill.
With the many improvements happening to website development and the availability of agile tools, managing SEO for local business is easier than ever. It has become effortless for companies to get hold of a protocol that allows you to increase organic traffic, optimize your local SEO, and get better visibility from a regional perspective.
Understanding the Need to Improve Your Local SEO Strategies
A viable way to success no longer lies within traditional marketing campaigns but instead involves the combination of digital and traditional strategies. With almost all people heading to the internet, optimizing your local SEO on a regional scale often does the trick.
Understandably, local SEO is an essential component for every business, especially the small ones operating on a regional level. While national SEO targets ranking in searches country-wide, local SEO sets your websites up to appear on the SERP but in specific locations.
This strategy is effective in marketing your products and services by giving your brand better visibility in the local scene. Such a procedure entails better website traffic and leads, providing your business with more significant opportunities and higher conversion rates.
Optimizing your business's local SEO campaigns also helps your business compete more effectively not just in the local market, but also against national brands with a higher capacity and resources. It levels up the playing field dominated by more prominent brands and monopolized by giant corporations.
Getting an Affordable and Scalable SEO Solution that Works for Your Business
One of the best ways to achieve SERP dominance in your locality comes from having a scalable SEO solution that works towards your business needs. Affordability always plays an essential role when getting the right services. It considers what your business can afford and creates a solution that tries to address your operational needs.
Cost-effectiveness should not compromise the quality of service they offer but should model their business offerings based on known industry standards. Whitelabel SEO is the best way to harness the benefits of having a website.
Consider that managing SEO for local business is easier than ever with the help of a service provider bringing more to the table. And unlike managing your business's SEO requirements, service companies deliver the right results with proven techniques that help you reap the rewards of having a website.
Scalability allows you to get the required services without paying for extra tools and features you don't need. It helps you focus on solutions that work to provide you with quality results without the hindrance and complications of having too much on your hands.
Driving Performance with Data-Driven and Proven SEO Strategies
Understanding your business and knowing your target audience helps determine the type of SEO campaign your website needs. Driving success, especially in a close-knit and competitive market, becomes a problem when this operational facet blindsides you.
Also, building a solid SEO foundation helps you siphon all the trickling advantages that are often missed by your competitors. Such benefits include getting quality site assessments, ongoing optimization and testing, and comprehensive reporting and analysis.
The fact that managing SEO for local businesses is easier than ever becomes true with the availability of SEO experts. They drive better website performance a notch higher than your initial expectations. And in all aspects of your business functions, having a website that delivers brings more value to your whole organization.
Scalable solutions, data-driven strategies, and localized SEO campaigns make up an effective tool, allowing your business to stay afloat in the local market. It is imperative in this day and age, given that most people look at the convenience of the internet as an accepted norm.
Refocusing Your Business with SEO Support that Goes Beyond Execution
Results delivery might be one you'd typically expect from an SEO expert, but support is what you need for continued and enhanced performance assurance. It is often where service providers differ from each other.
Going beyond their service execution is a way of judging whether an SEO company delivers the right kind of assistance to your business needs. Most often, SEO strategists catering to giant corporations do not show the same attitude to small-scale and nascent businesses.
Getting the help of a company that provides the same level of treatment regardless of your business size guarantees to bring more value to your initial SEO outlay. Scalable Whitelabel SEO services from trusted and reliable experts are also the reason why managing SEO for local business is easier than ever.