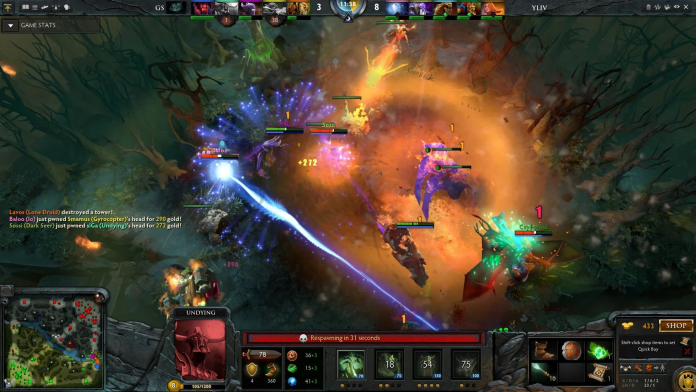 When Tencent announced their take on the Multiplayer Online Battle Arena (MOBA) genre, it sparked massive controversy in the gaming community. Fans were quick to point out that 'Pokémon Unite' seems like a rather blatant knock-off of League of Legends (LoL).
Nonetheless, it has gotten crampier as more games pop up in the MOBA genre. On the side note, it has been a decade since the Esports industry's largest MOBA, Dota 2 and LoL were released.
The Dedicated Community.
Gamers have frequently come and gone from the games they play. Yet, Dota 2 has been losing significantly more players over the last couple of months. Primarily, due to the virulent issues of "smurfing" and paid boosting, ruining the new player experience. You could imagine just how gruesome it is to get stomped by high-level players under 15 minutes in your first match.
Despite the debacle regarding which game is losing its player base quicker, both games have consistently achieved astonishing records annually. Whether it's the International Dota 2 Championships surpassing prize pool records every year, or LoL upholding the title as the most popular game on Twitch.
In 2019, League of Legends recorded a whopping 1 billion hours of watch time on Twitch platform while Dota 2 barely had half a billion hours. For that, LoL has much to thank its vast number of streamers, who devoted hours to keep fans entertained.
Although Dota 2 may not have the biggest records on Twitch, the game outshines other Esports titles during tournament seasons. For instance, the recent ESL One Birmingham 2020 had over 9 million hours of watch time over a week.
 The Billion-Dollar Industry.
Speaking of Esports, both games host their own annual championship tournament, namely the Internationals by Dota 2 and the Worlds Championship by LoL, respectively. It's thanks to world-class tournaments that really made Esports stood out as a billion-dollar industry over the last decade.
It has been a decade of the International tournaments, yet no Esports event has ever rivaled the Internationals' prize pool. To put things in perspective, the Worlds 2018 championship "surpassed" every past LoL events with 6.45 million USD in prize pool.
Meanwhile, the International 2019 had an indisputable prize pool of 34 million USD. In fact, the Internationals series had overwhelmed every other LoL event since 7 years ago, when the International 2014 recorded approximately 10 million USD in prize pool.
A World Apart: Amateurs and Pros.
Unfortunately, Dota 2's big money only favors the strongest teams in the scene. Commonly known as the tier-1 scene, participating teams are often powerhouse and large Esports organizations, where funding for players is never an issue.
Meanwhile, it's almost impossible to make a living off the amateur Dota 2 scene, aka tier-2 and 3. Before online tournaments became a norm just recently, there's Dota 2 Pro Circuit (DPC) season, which consisted of Valve-sponsored majors and minors. Besides offering DPC points that regulate teams' ranking and potential invite to the Internationals, these tournaments also boast impressive prize pools up to a million dollars.
Whereas, prize pool amounts in amateur Dota 2 are scarce. In contrast, LoL has regional leagues that nurture the young blood progressively. These leagues have a much-distributed prize pool, which is reliable financial support for amateur teams to continue honing their edge in the game. Hence, here's a reliable niche market for LoL odds if "Wombo Combo" in Esports piques your interest.
 LoL players can't deny it.
Now then, perhaps the hottest topic that sparked the tension between Dota 2 and LoL communities, which game is harder?
For starters, LoL is often ridiculed as being the "Dota 2 tutorial" because of its simplistic game mechanics. On top of that, LoL does not have as many unique item mechanics compared to Dota 2. Instead, most LoL items are passive items that only provide buffs to the hero. Ironically, that gives LoL players a lower learning curve, thus making the new player experience much comfortable right off the bat.
On the contrary, Dota 2 has a higher skill cap, which leads to many players pouring thousands of hours into mastering specific heroes. For instance, popular picks include the hero Invoker, who has 10 different skills, and heroes that require the player to control more than just the main unit, such as Meepo, Chen and Visage.
LoL has been trying hard to introduce more unique champions into the game, at least more than its counterpart. Every year, LoL releases at least 4 new champions, which motivates both active and new players to play the game. Whereas, Dota 2 only releases 2 heroes each year, traditionally during the Internationals itself.
Howbeit, Dota 2 developer, Icefrog, has continuously maintained and implemented new twists into the game, which gives the MOBA a change in pace. After all, there's a wise saying about Icefrog, who strives to achieve "Balance in All Things".
 A matter of preference.
Conclusively, both MOBAs have their own ups and downs. However, here's a take from a long-time fan of MOBAs; there's no doubt that Dota 2 has the harshest environment for beginners. Furthermore, the recent invasion of smurfs and boosters in the game just made it a hellish experience. Until Valve really addresses the elephant in the room, we won't be expecting newcomers to enjoy Dota 2.
While LoL may have an easier learning curve for the most parts, the Esports scene occasionally feels underwhelming, even in the grand finals of the Worlds 2017. If you are more of an Esports enthusiast, perhaps the tension and adrenaline in Dota 2's pro scene will be more satisfying to watch.
Regardless of my opinion, it wouldn't hurt to play both games and have your own insight. Note, LoL champions have a cooler appeal than Dota 2 heroes, period.