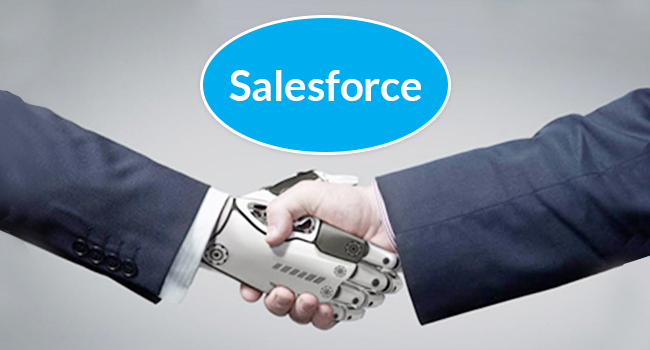 It's a known fact that salesforce is touching every industry. It's the most loved CRM software among large and medium business owner. Knowing this, there must a curiosity inside you to know about the future of salesforce. This is the reason why this article will formulate top 5 future predictions of salesforce
1.Coming years the demand of salesforce professionals will be skyrocketing
Recent studies have shown that salesforce has created millions of jobs worldwide. An average salesforce professional makes twice as more money than a regular 9 to 5 job professional. Every reputed industry is in dire need of experienced salesforce professionals that would make their business operations faster. So, the future of salesforceis very bright
2. Marketing cloud would be treated as a mainstream business
Salesforce Marketing Cloudis gaining popularity from time to time. They are able to create a personalized marketing campaign for customers.  When each customer observes, that campaigns are being created for them; they will trust the salesforce platform more than anything else.  A recent study on the salesforce platform have indicated that business that used salesforce marketing cloudas their mainstream business is able to drive twice as more profitable than the business that doesn't use the platform
3. Lightning components will be used by all
In 2015, salesforce upgraded their platform, and they launched a new version of the software known as salesforce lightning.  A total of 80 updates were provided in the same week when this new version was launched. As applications were created faster in salesforce lighting, salesforce marketing cloud was also upgraded. Earlier with salesforce classic marketing cloud was only used to send an automated email to the customers. With the coming of lighting components, salesforce marketing cloud can be used according to the convenience of the salesforce developer.  Now the developers would use the cloud platform to send push messages to the customers and also create personalized marketing campaigns for their customers
4. Internal need would be in demand
Now if you are someone that is from a computing background, then you are already aware of computing languages like .Net, PHP, Java. While knowledge of these programming languages is needed to manage the application in the salesforce platform., but this not the only need. Salesforce uses its own programming languages like Apex and Visual Force. So, companies are looking for individuals who have Knowledge in these programming languages. Hence, in house job professionals with salesforce certification will be in demand.
5. Mobile will never out of business
An average user spends 80 per cent of its day checking their mobiles. In addition, salesforce is the only CRM platform that has created applications that are very comfortable to use in mobile platforms. This gives you portability that you possibly can't imagine. Wherever you many go, you have a salesforce application to meet your business needs. So, salesforce would work on improving their applications on the mobile platform and this will be the future
Addition mention
This section is added so that you don't feel that this article has comprised of predictions.  Another great prediction besides these five would be big data and IoT. Understand the fact that big data will be used by most of the data-driven companies to manage their work. So, this would need salesforce tools to maximize business operations.  Recent reports have stated that salesforce is trying to make a platform that is for health care., so there are trying to get into heath could. Realize 2019 is the year that was mostly about big data and IoT and salesforce are already ahead of the game.