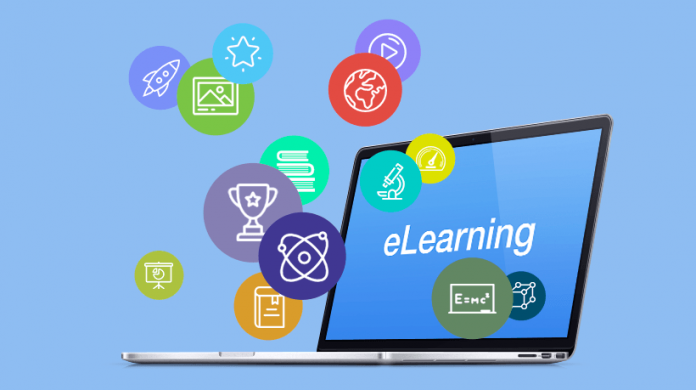 Chalkboards have long departed and whiteboards have commenced dissolving. The digital screens have superseded both. Gone are the days of crowded classrooms and teachers' guilt for not being able to provide undivided attention to every student. Now is the era of e-learning which means that we have 24/7 access to education. E-learning is the type of education that is learned by acquiring the use of technology, especially electronic technology.
Electronic technology is used to approach the educational curriculum, outdoor classes, and primarily traditional classes. Most of the educational websites like LMS Sydney offer e-learning in the form, of course, can be short or long terms course. Apart from that, a degree program is also taught online. This new mode of teaching and learning outside the classrooms owes to the growing increase of technology day by day. In this modern world, education is no longer confined to adults, but also children. Children as well as adults, both can benefit from the technology of e-learning alike. Many studies have proved that using technological devices as a source tool for learning can greatly contribute to higher student achievement. Usually, the technology used in classrooms ranging from digital cameras, desktop computers, whiteboards, digital projectors, laptops, and other mobile computing electronic devices.
Diversity in programs
E-learning programs have been mainly categorized into different types of programs. Some programs are fully online while some are hybrid programs (which include consolidated online teaching and in-class teaching). Moreover, the top resources accessed by teachers include namely khan academy kids, YouTube, NASA, Duolingo, curious world, national geographic kids, class Dojo, spelling stage, and science 360. 
Next, we will see how e-learning is useful to children and what the benefits are that e-learning offers for children.
E-learning works as a learning aid for children, this owes to the fact that learning endeavors and knowledge software assist children to retain information comprehensibly. It also helps a student to develop a healthy routine and enables them to stick through schedules throughout the period of course teaching. 
Better Development of Senses
Children learn through senses. Out of our five working senses, sense of sight, sense of hearing and sense of touch directly come into use in learning. E-learning appeals to these senses in a positive and enhancing way and thus strengthens these senses which helps a student to learn more effectively through online education in comparison with traditional classroom teaching. Within classrooms, children only use their sense of hearing. Whilst in online teaching the influence of audio and visual parts of the process enables students just not to use the sense of hearing but also the sense of sight and touch respectively. In a recent study in which educationists aimed to check the retaining power of lessons learned through e-learning with a control group of those students who were kept deprived of e-learning. 
Better Quality of Learning
The experiment design consisted of a video and picture of a trumpeting elephant, experimental group was shown the video of a trumpeting elephant while control group was shown only the picture of elephant, later results of the study concluded that those students who saw the video could remember the scenario more vividly than those students who just saw pictures of elephant.  We can safely say that the most outstanding benefit of e-learning is its positive effect on learning as children learn to develop good hand and eye coordination and improved motor skills. These strengthened skills help children to develop stronger memory and polish their problem-solving skills. Both processes come under the realm of learning. 
Enhancement of Skills
Besides the latter benefit, e-learning also helps to foster strong emotional and social skills. It was observed that, that learning software that appealed to the aesthetic sense of children double folded the amount of time spent in lesson learning thus overall engagement and attention span were enhanced.
Additionally, e-learning programs have different multimedia tools installed in them for providing access to children to communicate with their online classmates across the world. This ability helps them to acquire knowledge on various and diverse range of topics. They also consider different opinions coming from different people which broadens their perspective and helps children to have a better understanding of topics. Not only that but the latter gesture gives an opportunity for children to work and improve their social skills.
Broader Aspects of Learning
With e-learning comes computer education as well. This benefit enables the student to develop not only their theoretical understanding of study topics but also the working of computers, electronic devices. As these are the commutes of e-learning. In the long term, these skills developed over time increase prospects of employment. For example, children who have been exposed to the frequent use of electronics and computers foster good programming and graphic designing skills which can directly increase the chances of their employment in those sectors when they grow up and become part of the job sector. We can say that e-learning directly benefits children in the long term by building a basic understanding of programming and software designing in children, which with time becomes more updated and useful. All of this suggests that students who have developed good computer operational skills have to build up the safe prospects of a future that awaits them. 
Updated and Relevant Information
Moreover, e-learning provides children with updated knowledge instead of outdated books taught in traditional classrooms by teachers. Those books lack the updated content and students must learn lessons that are no longer even applicable, this wastes their time, their efforts and most importantly their will to study. Whereas lessons taught online are constantly being checked, content is being added and omitted, and throughout it is kept updated and useful. Apart from that e-learning is also very cost-effective for parents who can't afford to send their children to schools.
The lessons are just one click away for such underprivileged children. For children who have a weak memory and small attention spans, e-learning enables them to re-take their lessons for as many times as they want until they get complete comprehension and understanding of topics. E-learning also provides quick and fast delivery of educational lessons, for example, if a child has an exam and he can't study the book in a short time, he can simply log into any online learning program and can have his entire book concepts understood within a matter of hours. It saves a lot of time and relieves the academic burden that children go through in schools. 
Conclusion
E-learning also addresses and solves the long complaint of undivided attention. For ages teachers face this problem where they can't focus on each child in classrooms to help them with their lessons because of which many students face hurdles to achieve good results. E-learning with its anytime accessibility and consistency solves this problem as well.