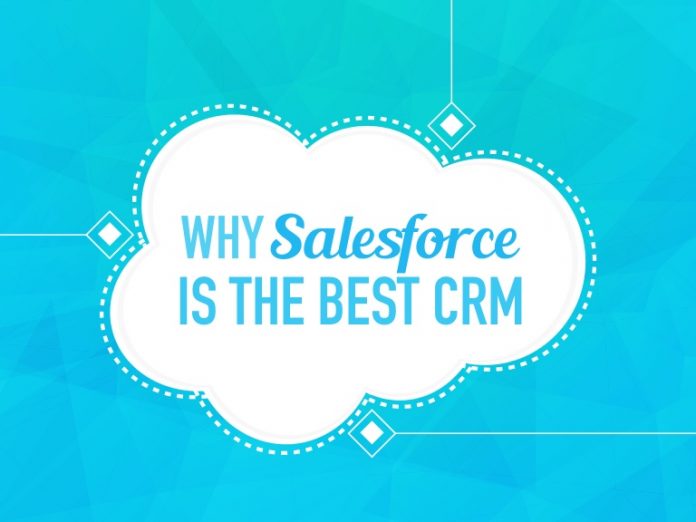 The most important data a business enterprise possesses is that of its customers. As customers are to be given utmost priority, their database is considered to be extremely critical. This is what makes Customer Relationship Management (CRM) an important practice. 
For the last two decades, Salesforce has been ruling the market of CRM software and not due to one, but several reasons. Here is a list of reasons that make Salesforce the best CRM a business house can opt for:
Use of Artificial Intelligence
This is arguably the most exciting feature offered by Salesforce. In its latest versions, the CRM comes with an artificial intelligence component called Einstein. Staying true to its name, the component scans all your database, makes sense of it all and predicts the way your customers may behave in future. It functions on complex algorithms that help you gain important insights into your business
Sleek Mobile Version
Your sales team may not like sitting on their desks all the time and sticking to a rigid time schedule. Salesforce has a sleek mobile version called Salesforce1 Mobile, where the desktop interface seamlessly optimises itself on your mobile phone. The mobile version is also extremely easy to use, which rules out the question of teaching your employees how to use Salesforce CRM on their respective phones. Your team can therefore work from any place at any time and stay logged in to the system. 
Brilliant Integration
Salesforce CRM is designed in a way that it can integrate with majority of third-party platforms. Be it analytics software, financial software or an e-commerce platform, Salesforce would seamlessly integrate with the applications and gather data from these platforms. This would help you get a bigger and more complete picture of your organisation and would also help in the process of cross-referencing. 
Team Motivation
Motivated employees can fulfil any given target. Salesforce believes the same and offers interesting visualisations and gamification of its interface. Apart from having fun and interactive tutorials for your team to train on, the system also has an effective feature of keeping a track of goals and activities. By tracking the work of every employee and matching with their targets, it motivates them to work harder to achieve more. 
Suitable For All Business Scales
It is common myth that Salesforce is built for large scale businesses. It is suitable for businesses pertaining to any scale. Therefore, if you are a smaller business, you can buy a basic version of the software and after availing suitable Salesforce Consulting services, upgrade to advanced versions without losing your data. 
Marketing Aid
There is a close connection between customer relationship management and marketing. Salesforce has certain built-in marketing tools that would help you market your product better. It helps you in charting out creative campaigns to target your customers, creating an exclusive sales pipeline as well as keeping a track of ROI.
Enhanced Customer Services
The core focus of Salesforce CRM is cater to every need of your customers. Using the database you possess, the system would identify favourable and risky customers. It would also help you deal with each of them in the most appropriate manner. Also, many of the tools and features installed in Salesforce help you give your customers personalised services, making them feel extremely special. Right from targeting customers to conducting follow-ups, Salesforce would help you take care of your customers like no other system would. 
Though there are several players in the market of CRM software, no one would make your business life easier and stress-free the way Salesforce CRM would!